Lac Simon: the south coast, down the hill and upper hill – Simo sagihigan : wajagamak, nisidan, ogididan
Has the village always been where it is today? How did our community develop? We were first settled in the surroundings of Lac Simon. On the western shore of the lake, a church, a presbytery and a large house used as a warehouse, community hall and housing were built in 1925-1926. This location is referred to as "down the hill".
With the opening of the road linking Senneterre and Mont-Laurier (late 1950s), families settled in a bay. A road connected this bay, nicknamed "Élysée's Bay", to Highway 117. Élysée Papatie had built a house there and families had set up their tents around.
In the 1960's, we cleared the Cicip Road, connecting the "bottom of the hill" to Route 117. 13 small houses were built near the church. They were soon overcrowded and 7 semi-permanent tents were installed for young families.
Jean-Paul G. says: [Down the hill] "Initially [the houses] were built to serve the elderly. Seniors from all over who had difficulty keeping up with life on the land were to have access to these houses."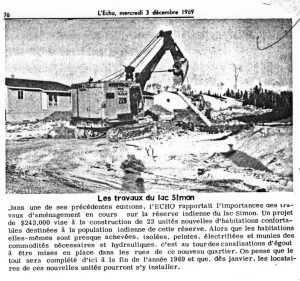 In 1969-1970, the Bureau of Indian Affairs authorized the construction of new housing as our band had reached the minimum number of members required (approximately 200). The Chief of the time agreed to move the community on the upper hill. It was a condition for building the new housing. Near the lake, the logistics of building the new homes were too complicated.
The actual site of our community has grown. 23 new houses have been built with modern facilities (such as electricity and running water). The church and the 13 small houses have been moved from the bottom of the hill to the upper hill. The attractiveness of the new houses, the future school and the proximity of Louvicourt convinced several families to ask for a band transfer.
The moving of the church to the site of the actual village was filmed!
Read the written description of this silent video.
After Cicip (duck) and Ogima (chief), the first streets are named after the families who settled there.