This post-war General Motors newsreel covers the wide scope of GM Canada's military activities during the Second World War. General Motors Newsreel Clip: GM Canada War Production: View this video with a transcript (EN).
GM Canada had begun to experiment with building military vehicles well before the outbreak of the Second World War, unsuccessfully trying out a British-designed six-wheeled truck in 1936. In the early spring of 1939 work began on a four-wheel-drive Chevrolet military truck. In the period after the outbreak of war in September 1939, Chevrolet, Ford, and later Chrysler all began to produce this vehicle, the Canadian Military Pattern (CMP) truck.
In 1941, GM Canada signed a wartime production agreement with the Canadian government, and it produced its last civilian vehicle in 1942 before switching over completely to military production. The Oshawa plant produced trucks, staff cars, ambulances, artillery tractors, gun carriages, armoured cars, tank hulls, and fuselages for the Mosquito light bomber airplane built by de Havilland.
For every desert reconnaissance, only captured [Canadian] trucks are to be employed since German trucks stick in the sand too often. -Intercepted German communique from North Africa.
War work was good for the employees: wages went up, even for junior workers. The new contract also included a "time is of the essence" clause, allowing the plant to call in unlimited overtime shifts from employees. The UAW was also recognized as the official Oshawa auto worker's union in 1943.
With many men volunteering for military service, GM needed replacements for them. The company took on boys as young as fifteen as apprentices. It hired large numbers of women, although they were often assigned jobs that more experienced male workers considered to be unpleasant or dull.
I'd take a guess that half the workers in GM were women. We riveted bomb doors and emergency pumps, then through the door from us was where they made the whole plane- ours was small parts…. During that period it was all right for married women to work, it didn't seem to make much difference at all. They accepted it as a war measure. -Mary Turner, Local 222 member and GM employee during the Second World War
There was little to no political agitation by the union and a sense of solidarity was the norm. While Socialist and Communist hardliners in the union had initially advocated against war work, the entry of the Soviet Union into the war in 1941 caused a dramatic change in attitude. These union members, who had previously worked against what they saw as Canadian government militarism, began to aggressively recruit new union members and push for strike bans to keep production high.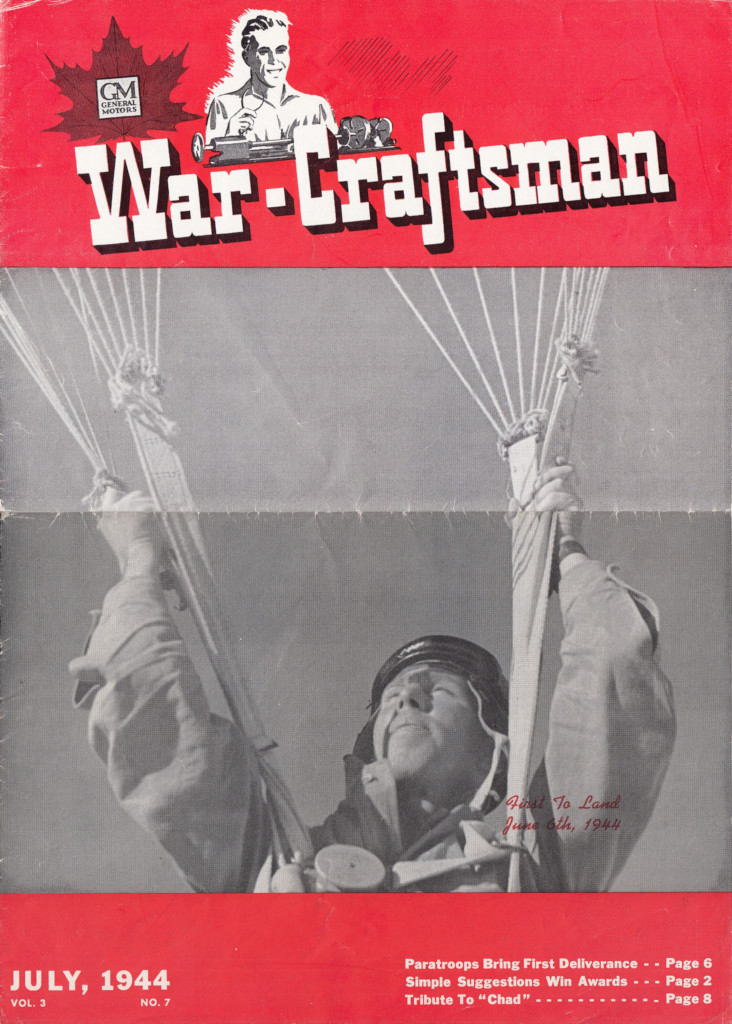 The monthly factory magazine, the War-Craftsman, included news from the front, plant gossip, cooking tips, and, sadly, the obituaries of those from the area who'd gone overseas and died in battle. Of the plant's employees, 1689 joined the armed forces during the War. Of those, 73 lost their lives.
You would say 'I won't do a slipshod job on this because it might be the cause of some kid's life… if it wasn't done the way that it should be.' -Mary Turner, on war production