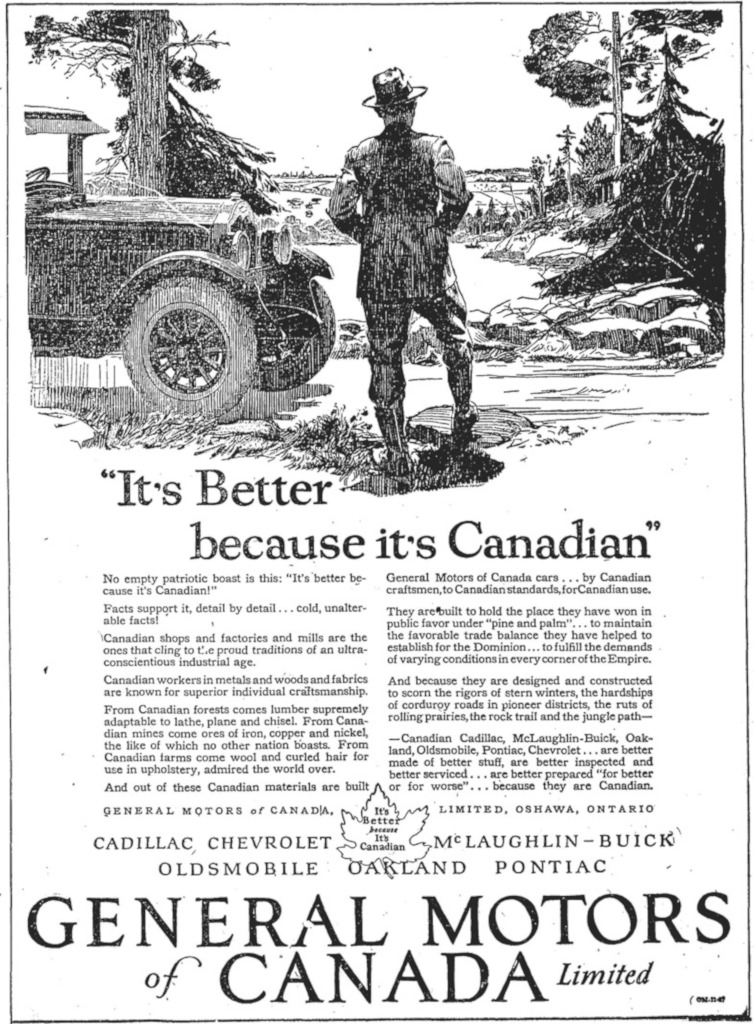 A car for every purse and purpose: it's better because it's Canadian. -GM Canada advertising slogans, 1928
In 1928 the factory consisted of 59 buildings covering 2.2 million square feet. It was producing a single car every sixty seconds, but concerns about efficiency from GM led to an
unpopular pressure to increase the work-rate.
The company brought in "Efficiency Experts" to patrol the production lines, measuring the time it took for jobs to be completed.

In March, plant administrators increased the speed of the assembly line and imposed a 40 per cent pay cut on trimmers in the upholstery department.
On March 26, 1928, 300 trimmers walked out on the job in protest. They were immediately fired. By the next morning another 1,200 employees had walked off the line, bringing the plant to a standstill.
With the great profits of General Motors, stated to be $210,000,000 last year, the men thought they should be entitles to better wages than they were at present receiving -Oshawa Daily Times, 27 March 1928
The strike grew over the rest of the week, and by Friday the 30th all vehicle production in Oshawa had stopped. That day a group of 3,000 strikers gathering at the Oshawa Armoury voted to begin a union. Under pressure from the Ontario government, the striking workers, and the American Federation of Labor (AFL), the plant management gave in, giving the workers their original wages, rehiring all fired personnel, and allowing collective bargaining. As part of a large AFL network extending across North America, an Oshawa auto union had been born.