He did Many Great Things: Mifflin Wistar Gibbs
In his autobiography published in 1902  Mifflin Wistar Gibbs describes his arrival in Victoria in 1858.  "We received a warm welcome from the Governor. We had no complaint as to business patronage in the State of California, but there was ever present the disheartening consciousness that while our existence was tolerated, we were powerless to appeal to law for the protection of life or property. British Columbia offered and gave protection to both, and equality of political privileges. I cannot describe with what joy we hailed the opportunity to enjoy that liberty under the "British Lion" denied us beneath the pinions of the American eagle."
Gibbs became the defacto leader of the Vancouver Island Black Community. He was active in business, owning a business Lester & Gibbs with partner Peter Lester that is said to have been a rival of the Hudson's Bay Company. He owned property; his five children were born here.
In 1866, Gibbs became the first Black person elected to public office as a Victoria city Councillor representing the James Bay District. In 1868 he was a delegate, representing Salt Spring Island at the convention at Yale B.C. to draw up the terms for B.C.'s entry into Confederation. In the fall of 1868 he was re-elected to City Council.
He was also re-elected in 1869 but took a leave of absence to take charge of a coal-mining project in Haida Gwaii (then called the Queen Charlotte Islands), where he built the first tramway in British Columbia to deliver coal to tidewater. It was at this time that his wife Maria and his children returned to the United States. In his autobiography Gibbs writes "I have had a model wife in all that the term implies, and she has had a husband migratory and uncertain."
Gibbs returned to the United States late in 1870. The colony was struggling politically, administratively, and financially with the prospect of Confederation. Gibbs described the British colonial government as "unfitted for an intelligent community in the nineteenth century" and Gibbs himself was an adventurer and risk-taker, always seeking new challenges and perhaps he saw the United States Reconstruction Era as a better opportunity for success.
In the United States he pursued a career in law, became the first elected black municipal judge in the United States. In 1897 he was appointed by President McKinley as U.S. consul to Madagascar.
On August 31, 1907, he paid a return visit to Victoria. The article states, "He was both surprised and delighted with the city's appearance, but said he saw in the near future much greater things for Victoria."
Upon his death, age 92 in Little Rock Arkansas; the Arkansas Gazette published a full account of Gibbs' life. The last paragraph states "His standing for years as a leader among his people and as their representative in political, financial and social affairs, brought him the confidence of both races."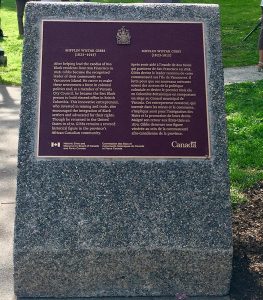 On August 4, 2009 the Government of Canada recognized Gibbs as "A Person of National Historic Significance". This plaque is in Irving Park, Victoria B.C. where Gibbs owned property and had his home.
Ron Nicholson, a long-time member of the BC Black History Awareness Society, talks about the many achievements and accomplishments of Gibbs, describing Gibbs as his hero.  The interview takes place in the Mifflin Wistar Gibbs Community Room located in the sxʷeŋ'xʷəŋ taŋ'exw  James Bay Library Branch, Victoria B.C.  This library room was dedicated to Gibbs in May 2018.

"I greatly admire Mifflin Gibbs" – Ron Nicholson (captions available in both French and English). View this video with an English transcript.
The title for this story is the last line of the speech given by Ron Nicholson, Director, B.C. Black History Awareness Society, at the plaque unveiling reception on May 4, 2019. It is based on the words from Gibb's biography. Gibbs is talking with Julia Griffith, an English-born white abolitionist who was Douglass's business manager after a particularly gruelling tour with Douglass. Gibbs writes "I shall never forget the response … you could already anticipate the magnitude of the idea … "What! Discouraged? Go do some great thing."
Mifflin Gibbs. Shadow and Light: An Autobiography. Washington, D.C. 1901.
Crawford Kilian. Go Do Some Great Thing: The Black Pioneers of British Columbia. Commodore Books 2008.