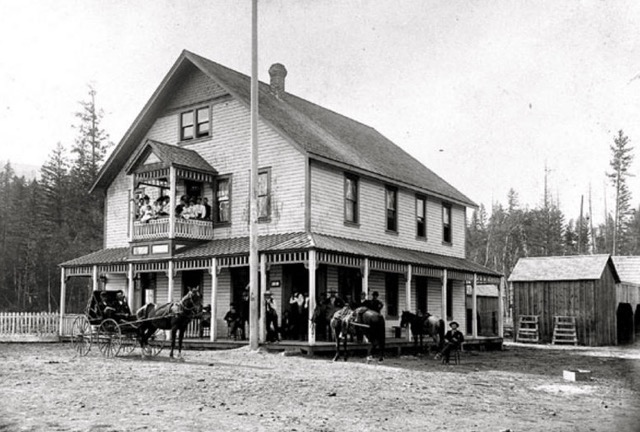 Courtesy of Okanagan Archive Trust Society
The Rams Horn Hotel was the first hotel built in Lumby.  Louis Morand built the hotel in 1891 only to have the hotel burn to the ground within a few months of completion.  The hotel was rebuilt in 1892 on the same site.  The new Rams Horn Hotel was a two-story, frame building with a concrete foundation and brick chimneys.  The outside walls were finished in rustic siding and nicely painted.
The inside walls were plastered.  The dimensions were forty-eight feet facing Vernon Street and twenty-eight feet facing Shuswap Avenue.
Upstairs contained a sitting-room and seven bedrooms.  The lower floor featured a parlor, bedroom, dining-room, kitchen, entrance hall, large public room with pool and card table, a small office and a bar-room.
Out back, there was a large woodshed, an open driving shed and a good stable.  In 1932, the hotel once again burnt to the ground.  It was rebuilt on the same site and remains standing today.