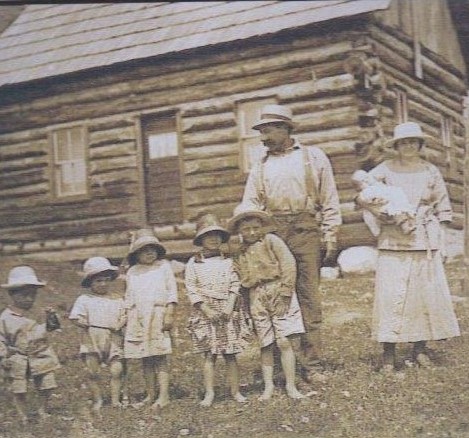 The Lumby Archives Collection
Written by the Grade 5/6 students at JW Inglis Elementary School in Lumby, British Columbia:
This picture shows everyone wearing a hat, likely homemade clothing and in the summer children often went bare foot.
Pioneer families tended to be large. Infant mortality was quite high during the pioneer days. It was not unusual for a couple to have as many children as possible in the hope that some would survive to adulthood. For example, the first man to pre-empt land in Lumby, Pierre Bessette had 9 children, all surviving to adulthood.  Others, such as Josephine LeBlanc and Napoleon Bessette, lost 2 of their 10 children in infancy.
Large families were important in the pioneer days as children were essential workers on the farm.  Girls helped with household tasks and child rearing while the boys helped their father around the farm and in the fields.