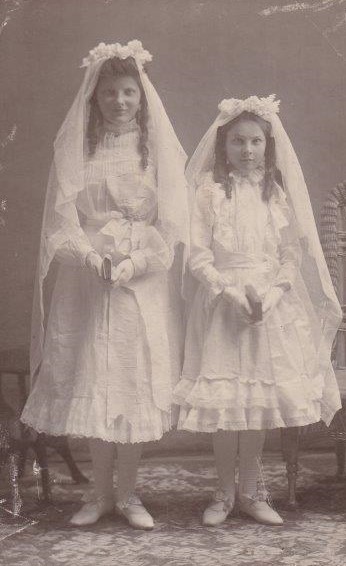 Hector LeBlanc Collection
Written by the Grade 5/6 students at JW Inglis Elementary School in Lumby, British Columbia:
These girls are all dressed up for their first Communion celebration.
As most of Lumby's early population were of French descent, First Communion was a very important part of a child's religious development.  The event marked the child's faith and belief in Christ and usually occurred when the child was between 7 and 13 years old.  It was also a very special social time when families would gather in celebration.
Special clothing was worn during First Communion.  Girls wore fancy dresses, gloves and a veil attached to a wreath of flowers.  The girl's clothing and accessories were normally white.  Boys wore their best Sunday clothes or a suit.