Fourth generation: faster, stronger
Aboard the J.Z. Degagné, with Zélada at its helm, were his sons J.A.Z. (Joseph Arthur "à Zelada"), Roland and Maurice. Their cousins Gérard and Jean-Paul learned from their father Joseph on board La  Josuhée.
Zélada, as his sons came of age, decided to build a second schooner with the help of shipwright Albert Audet. And so it was that the town's homegrown sailor was now overseing the construction of Saint-Joseph-de-la-Rive's very first motor schooner.
Christened Mont St-Joseph, the schooner paid homage to its birthplace and the timber that went into its construction. Zelada's eldest son J.A.Z. became its captain. During the winter of 1938, Zélada began construction on a second schooner similar to the first, the Mont Notre-Dame, built on the hull of the old J.Z. Degagné.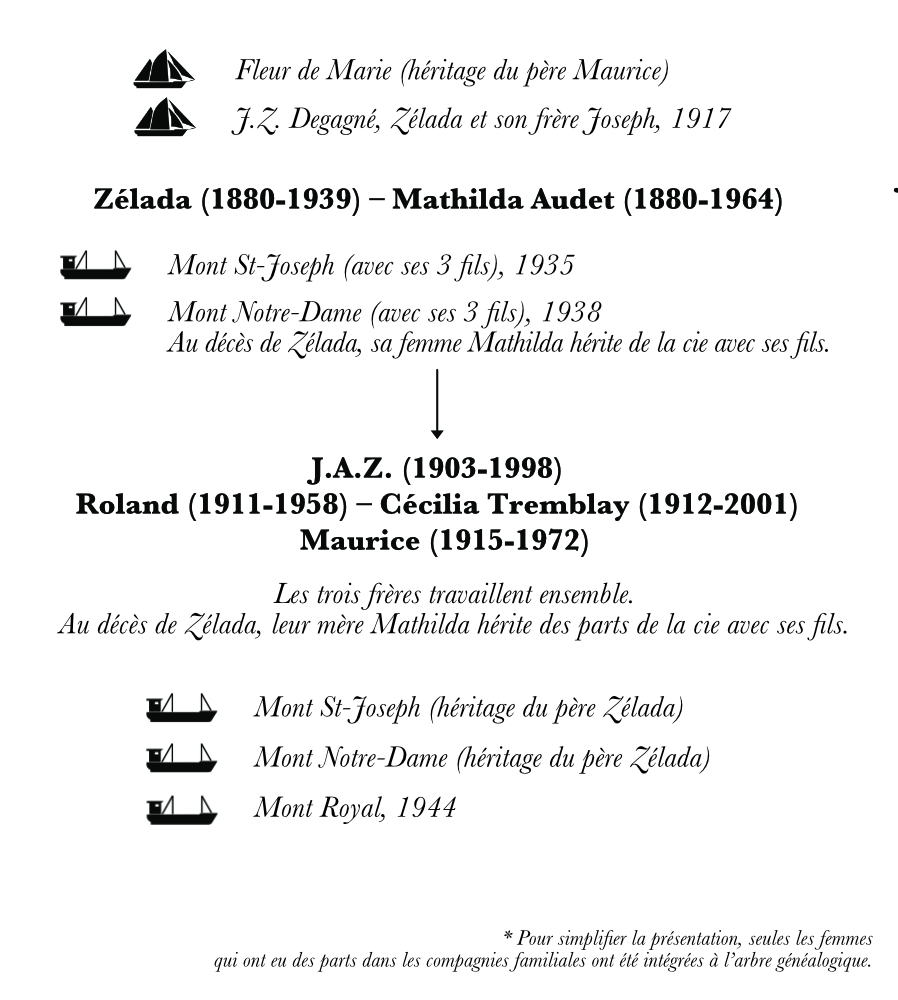 As for Joseph, in winter 1939 he started construction on a new schooner with shipwright Nérée Mailloux. Named in honour of the famous French general, the G. Montcalm drew inspiration from Zélada's ships. However, the sharper slope of its stem closer resembled the shape of old sail-powered schooners. Joseph embarked on his new ship with his son Gérard who had just been made captain. He later gave command of La Josuhée to his second son Jean-Paul. The G. Montcalm would go on to sail from Anticosti Island to Lake Ontario.
Modern schooners
When Zélada passed away in 1939, Mathilda and her three boys started a company around the Mont St-Joseph and the Mont Notre-Dame. The Desgagnés' fundamental principle was that a family's livelihood depended on having a schooner. They were still missing one.
A new ship was therefore built, again under the direction of Albert Audet. This schooner was designed to be larger, taking into account recent technological advancements. Painted white and staying true to the curves of its predecessors, the Mont-Royal was launched in the spring of 1944.
The D'Auteuil Lumber company in Quebec City also gave Albert Audet an order for a second schooner similar to the Mont-Royal. The D'Auteuil II was launched in spring 1945 and became one of the fastest in the county. The ship was later acquired in 1949 by Société Desgagnés et Frères, a company founded by Joseph's four sons.