1966 marked an enormous advance for the Desgagnés family: the beginning of navigation in Northern Quebec.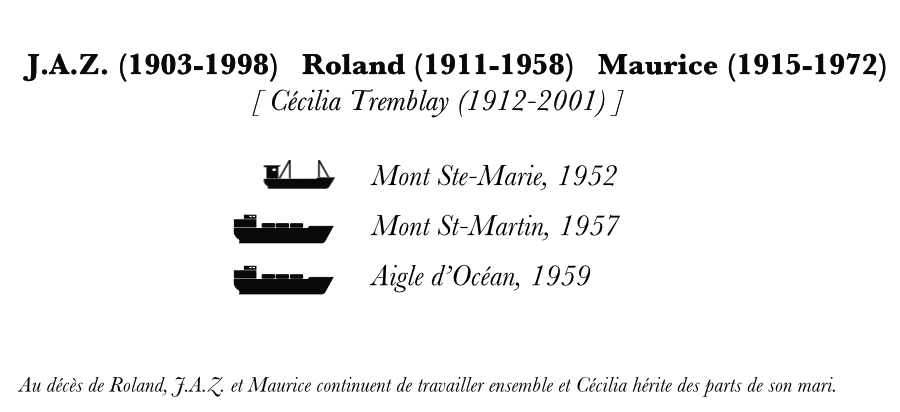 This change came about through the fourth generation of sailors and their children. As their now-retired parents focused on managing the business from Charlevoix, their young, spirited children took the helm of the family's fleet.
A late-July departure was scheduled aboard L'Aigle d'Océan. The journey would last one whole month. Captain Yvan Desgagnés was assisted by his cousins Marcellin and Zélada, first master and chief engineer. Six men from Saint-Joseph-de-la-Rive and Les Éboulements rounded off the crew.
To these men, this journey might as well have been to another planet! Never before had Charlevoix sailors ventured this far from home. Many wondered if a ship this small could even survive the trip. The project caused a mix of pride and concern in the village.
L'Aigle d'Océan was hired to make regular trips for the Agence Maritime company, provisioning six villages in Northern Quebec with food and everyday products.
Failure was not an option, L'Aigle d'Océan successfully reached the villages of what was then called the "Nouveau-Quebec". The Nunavik communities did not have docks, and so the crew had to unload the cargo with a barge. After their last stop at Great Whales, it was time to go back home.
Safely back in Charlevoix, the crewmembers of L'Aigle d'Océan were given a hero's welcome. Thanks to their success, the family company proved it was more than able to take provisioning contracts in the north, and overcome any ice, growlers or icebergs that would come their way.
Trips to the Arctic were very lucrative and allowed Transport Desgagnés to grow by leaps and bounds. The Desgagnés cousins took turns as at the helm of L'Aigle d'Océan, as the company continued to acquire new ships.