Cultural Festival: Words Without Borders, Artcelebration '90, Dancelebration!
We are explorers of a new terrain in a world without borders. We are creators of our lives, of our communities. […] No longer are we settling for the stereotypes and gender categories imposed on our communities. Telling our stories has moved us into the open.
                                                                                                                                          [1]
Words Without Borders was Canada's largest gathering of LGBTQ2S+ writers held to date. The series, organized by Co-Directors Jana Williams and Rick Marchand, included a Literary Gala, writers' panels, workshops, Out on the Shelves (an LGBTQ2S+ literature exhibit at the Vancouver Public Library) and an open mic night. 
Brian Pronger, Nicole Brossard, Daphne Marlatt, Yves Navarre, and Betsy Warland were guest writers. Panels examined the theme of sexuality and writing by activists. British writers, Seni Seneviratne and Maya Choudhury, hosted a workshop for women writers of colour. Sky Lee, writer of the first Canadian-Chinese novel "Disappearing Moon Cafe"presented her landmark work. Celebrated authors Jane Rule and David Watmough were the Literary Festival Honorary Directors.
View this video with a transcription: "Words Without Borders: Nicole Brossard"
Artcelebration '90, the festival's visual art component, was a series "animated by the threat to freedom of expression, issues of censorship, the desire to celebrate our lives and the simple wish to display art objects of beauty and creativity." [2] Artists were responding to recent regulations from all levels of government that targeted sexual imagery and other forms of expression. LGBTQS2+ artists and their community had been disproportionately impacted.
The largest exhibit in the series was of regional artists hosted at Community Arts Council Gallery.  Committee co-chair, Ian Thom, discussed the works with FPP.
View this video with a transcript: "Ian Thom: Artcelebration '90"
Exhibits at two artist-run centres dealt directly with themes of sexuality and censorship. The Pitt International Gallery showcased an invitational exhibition, "Depiction and Resistance". Western Front Gallery hosted Kiss & Tell Collective's interactive exhibit "Drawing the Line".  One hundred black and white photographs explored lesbian sexuality from a simple kiss to S&M.  The collective invited viewers to write on the images and walls with their own thoughts on where the line should be drawn. 
UBC's Fine Arts Gallery featured a retrospective of New York photographer Peter Hujar, noted for his images of male sexuality.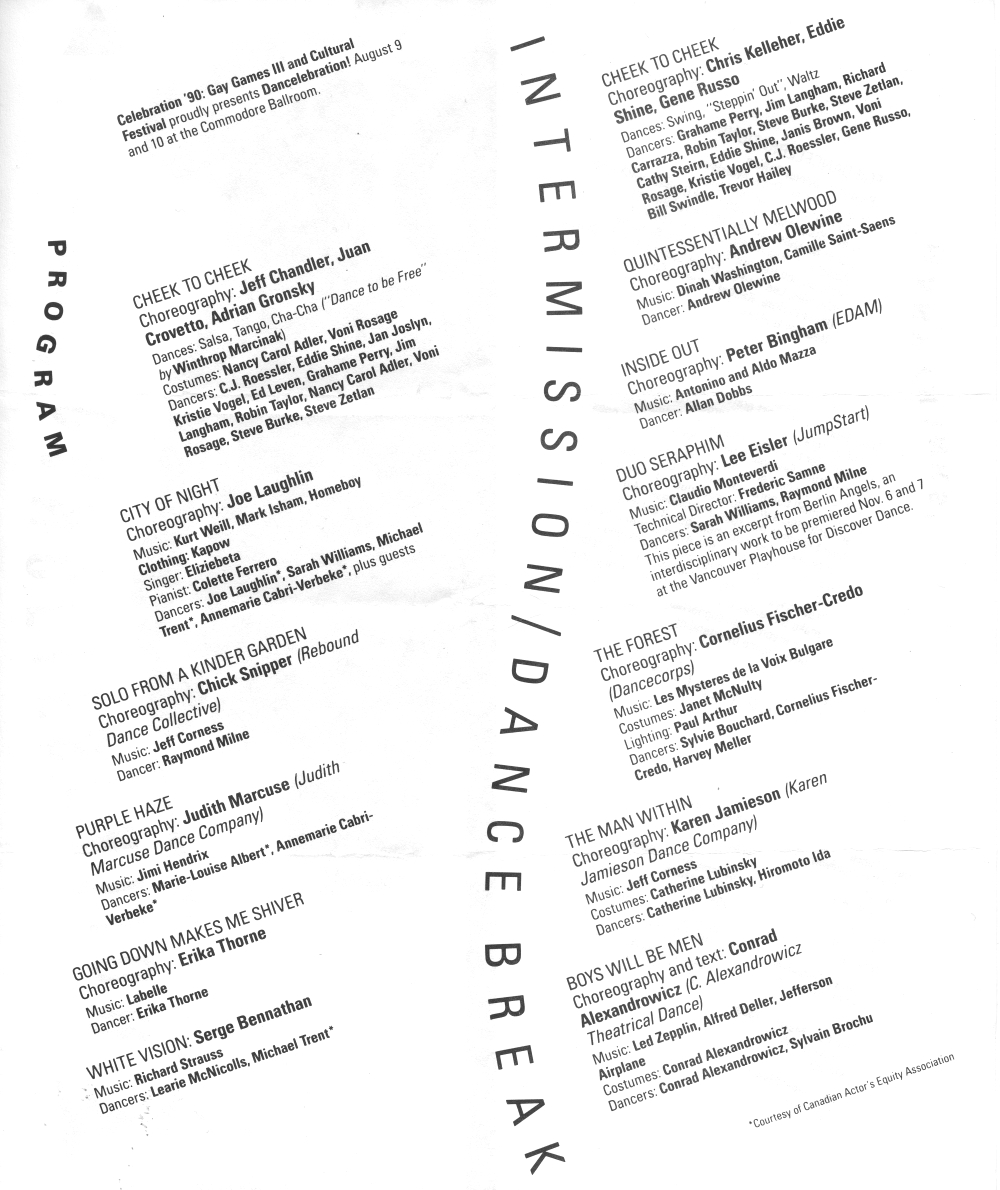 Dancelebration! was the largest single program of modern dance presented in Vancouver. Thirteen choreographers and some of Canada's most prestigious modern dance companies donated their talents Featured were Conrad Alexandrowicz Dance Theatre, Dancecorps, EDAM, JumpStart, Karen Jamieson Dance Company, Judith Marcuse Dance Company, Andrew Olewine, Rebound Dance Collective, Joe Laughlin, and San Francisco's same-sex ballroom troupe Cheek to Cheek.  At the end of each evening the Commodore's horse hair dance floor was opened to the crowd.
Daniel Collins described his involvement with Dancelebration! and the programme in his interview with FFP.
View video with a transcript: "Daniel Collins: Dancelebration!"
[1] "Words Without Borders", Committee co-chairs  Jana Williams and Rick Marchand, Celebration '90 Gay Games III & Cultural Festival Official Program.
[3] "ArtCelebration '90", Celebration '90 Gay Games III & Cultural Festival Official Program.