Go back
The Fort Victoria Brick Project Commemorates Black Pioneers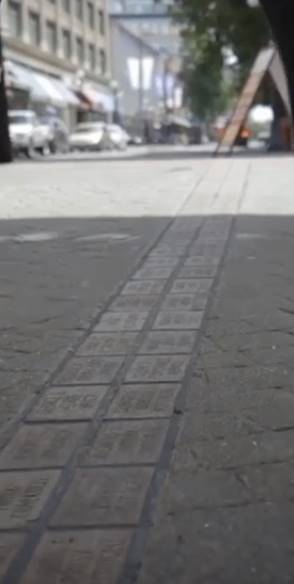 BC Black History Awareness Society
In 1986 the City of Victoria undertook The Fort Victoria Brick Project to commemorate early Victoria pioneers and settlers. A double row of 1000 bricks was laid from 1000 to 1150 Government Street and in Bastion Square.  This image is in Bastion Square looking east. Each brick is engraved with the name of a pioneer in Victoria's history. Black Pioneers that have engraved bricks are:
Nathan & Sarah Pointer: Nathan Pointer owned and operated a men's clothing and accessories store on Government Street.
Louis & Sylvia Stark. The Stark's initially settled in South Saanich, a farming community on southern Vancouver Island in 1859. They moved to Salt Spring Island in 1860.
Howard & Hannah Estes. Howard and Hannah Estes are Sylvia Stark's parents. They were farmers who settled in South Saanich .
Ringo's Restaurant. Samuel Ringo owned a restaurant situated on Yates Street that was noted as the best in Victoria.
Wellington Delaney Moses. Moses owned and operated several businesses in Victoria and Barkerville including barbershops, salons and bath houses. Lady Franklin, wife of the Arctic explorer, Sir John Franklin, stayed at the Wellington's home in Victoria with her niece Sophia Cracroft in 1861.
James and Mary Louisa (nee Lowe) Barnswell. Barnswell was a carpenter who built some of Victoria's most elegant homes, and was a prominent member of the Victoria community during the 1870's. It is also said that he had been a private carpenter for Sir James Douglas.
Mifflin Wistar Gibbs. Gibbs is considered the leader of the emigration of the Blacks to Vancouver Island. His business interests and political achievements are varied and numerous.
Charles and Nancy Alexander. Their first home was in "downtown Victoria" at the corner of Douglas and Fisgard Streets. In the fall of 1861, the Alexanders moved to South Saanich. The family lived and farmed there for 33 years.
There are also engraved bricks for: Charles &Ada Alexander. Charles Alexander was born in Victoria in 1863, the son of Charles and Nancy Alexander. He married Ada Barnswell.  Charles worked as a Teamster. Kenneth Alexander. Grandson of Charles and Nancy Alexander.