Go back
Central Saanich United Church formerly Shady Creek Church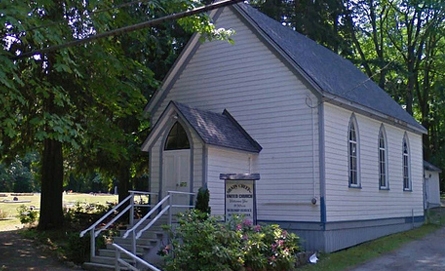 BC Black History Awareness Society
Central Saanich United Church formerly known as Shady Creek Church, 7180 East Saanich Road, Vancouver Island.  Charles Alexander initiated and assisted in the building of the original church and was one of its first preachers. One of the largest family plots in the graveyard next to the church is that of the Alexander family.
The Plaque Commemorating the arrival of Black Pioneers is also here.  On February 20, 2000, a ceremony took place at this church with Parks Canada to unveil the plaque.
In 2014 the BC Black History Awareness Society partnered with Karen Hoshal, a direct descendent, to restore the grave markers for Charles and Nancy.  The restored markers were unveiled at a ceremony on August 16, 2014.