Go back
Description of the steps of the paper-making process on Machine No. 8, following upgrades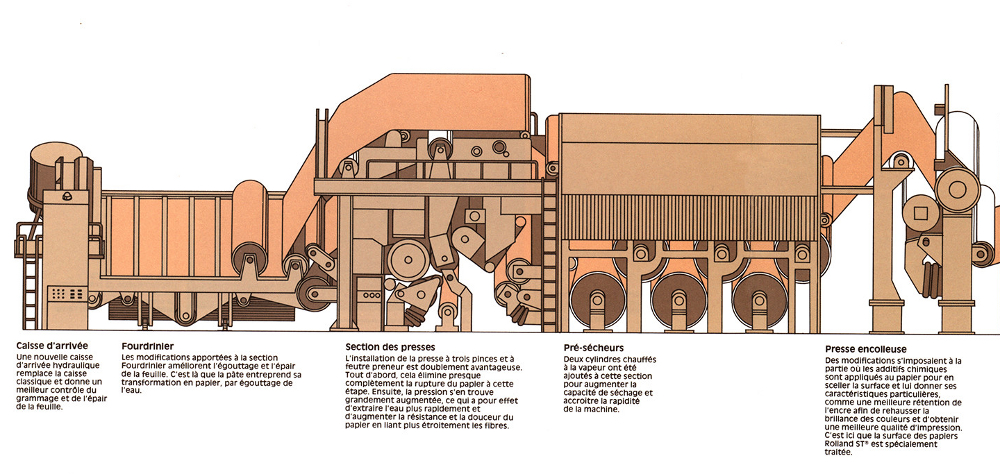 Provenance : Société d'histoire de la Rivière-du-Nord, Rolland Company Fonds
Call number : P001, S05, SS03, SSS09, D27
Date : 1981
To improve paper quality and reduce costs, the company spent $14 million to upgrade Machine No. 8 and automate its processes by computer. This was an innovation in the Canadian pulp and paper industry. Eleven consoles were added along the machine to control accuracy and uniformity at each step. The upgrades to the machine included "a new headbox, pick-up felt and press section, extra dryers, as well as a computerized process control system and significant changes to the pulp preparation stage. The result is improved production, acceleration and yield, which for our customers means an improved product, consistent quality and better product availability."
Excerpt from the promotional flyer À l'avant-garde du progrès created for Machine No. 8, 1981.
Transcription :
Head-box
A new hydraulic diffuser-type head-box replaces the conventional head-box, giving better control of basis weight and sheet formation.
Fourdrinier
Improved drainage and sheet formation result from modification to the foils in the Fourdrinier section, where the pulp stock starts its conversion into paper as water is drained away.
Press section
The change to a tri-nip press with pick-up felt yielded important benefits, virtually eliminating paper breaks at this stage and greatly increasing pressure, thus squeezing out water faster and improving the strength and smoothness of the paper by bonding the fibres more closely together.
Pre-dryers
Two more steam-heated cylinders were added in this section to speed up drying for the faster machine operation.
Size press
Modifications were required in this section, where chemical additives are applied to the paper to seal the surface and give it specialcharacteristics, such as better ink retention for more colour brilliance and more depth of image in printing. This is the section where the surface of Rolland ST® is treated.