Go back
Grace Tatum, Cradle Club past president, talks about her history with the Cradle Club.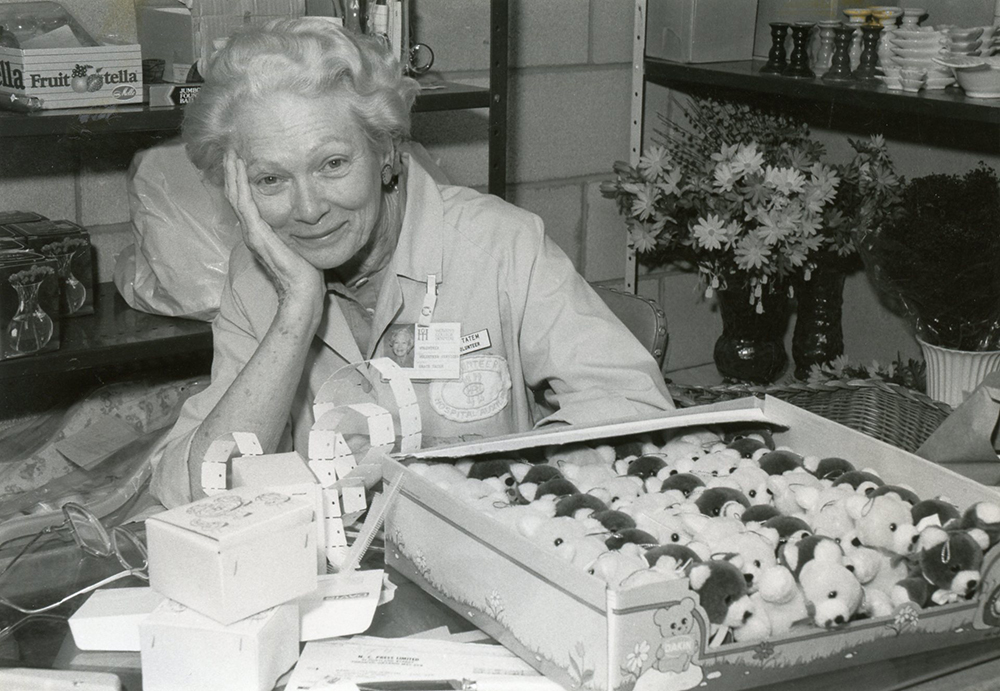 Audio Credit: The Miss Margaret Robins Archives of Women's College Hospital.
As a young mother, Grace Tatum joined the Cradle Club in 1947. She held the office of club president from 1955 to 1957. Even after the Cradle Club dissolved, she remained a dedicated volunteer at Women's College Hospital.
Grace Tatum: My relationship with the Cradle Club started in '47. October '47. Uh, before that really because as you know, or maybe you don't know, in that time you have to be, you had to be screened before they would allow you in to do anything like this. So I had to work at um, January Night which would be the 30, 1946 and in 1947 I had to work at the fashion show and luncheon, which they always had at Simpsons. And then in due course in October '47 I got a letter inviting me to join the Cradle Club which I must understand is a work club and if I come in I have to be prepared to work. Well I had a lot, I thought, to give at that time and I was prepared to work. So I accepted the invitation and became a member October '47.
***
Interviewer: You have mentioned, uh, a few minutes ago that you were really put through somewhat of a selection or a, a previewing process.
Grace Tatum: Yes.
Interviewer: Before you were allowed to join the club.
Grace Tatum: Yeah.
Interviewer: It sounds like the Cradle Club, at least in those years, was a, um, exclusive type of thing.
Grace Tatum: Well, I don't know that it was exclusive but they wanted somebody whom they could trust.
Interviewer: Mhm.
Grace Tatum: And who was willing to work and didn't expect to socialize at all to get anything out of, "well, you know, I belong to the Cradle Club" sort of thing.
Interviewer: Yes.
Grace Tatum: It, it wasn't that way at all. It was explained to me, uh, at first by Mrs. Peter Sandiford, who at that time was the chairman of the board of governors. And she actually brought me into the Cradle Club. She brought me first to the, or she, she talked to me at first. I met her at a tea, and I had been in, um, in Canada since 1944. And I had become a Canadian citizen, and I had a lot of time and I thought I should utilize it. And how I hit on the Women's College Hospital, I have to be quite frank, I don't know outside the fact that Mrs. Edwards, Mrs. Ralph Edwards, I lived at 170 Balmoral and she lived right across the street. And we both had small children. I had a, a little girl, and she had a wee little girl too, so we sort of got friendly that way and she said "You should belong to the Cradle Club" and I said "I should do something!" because coming to Canada, I had been very busy at home in Bermuda with, well it was the war years. Um, with the Lady Cubitt Compassionate Fund. We had to read to sailors, you know, we had ships bombed around us all the time and they were coming up with [oil pill sales] all the time, and we had to entertain them, well I come here and I'm doing nothing really, just bringing my family up. So Mrs. Sandiford thought I should join the Auxiliary.
Interviewer: Mhm.
Grace Tatum: -that would be the Senior Auxiliary. And always they were the Senior Auxiliary, but then she decided I was too young to be with the older people [laughing], so I was put onto the Cradle Club.
Interviewer: Mhm.
Grace Tatum: And I enjoyed all those years very much.
Interviewer: Now. It seems like there is a structuring of the volunteer organization in those days. When you say the volunteers, the senior volunteers-
Grace Tatum: Yes, the Auxiliary.
Interviewer: -that is now called the Association of Volunteers.
Grace Tatum: Yes.
Interviewer: And does that also imply that there was a junior volunteers?
Grace Tatum: There was an evening auxiliary.
Interviewer: Evening auxiliary.
Grace Tatum: And, um, when they were 45 they were supposed to join us, well, they arrived at the fact that they didn't want to give up their little, it was like a clique. Can you understand that without, without me sounding malicious? Well they were a little clique. And they, they had a nice little package and they wanted to keep it that way so they all got 45 and they decided that they'd extended it to 50.