Go back
View of the Town of Saint-Jérôme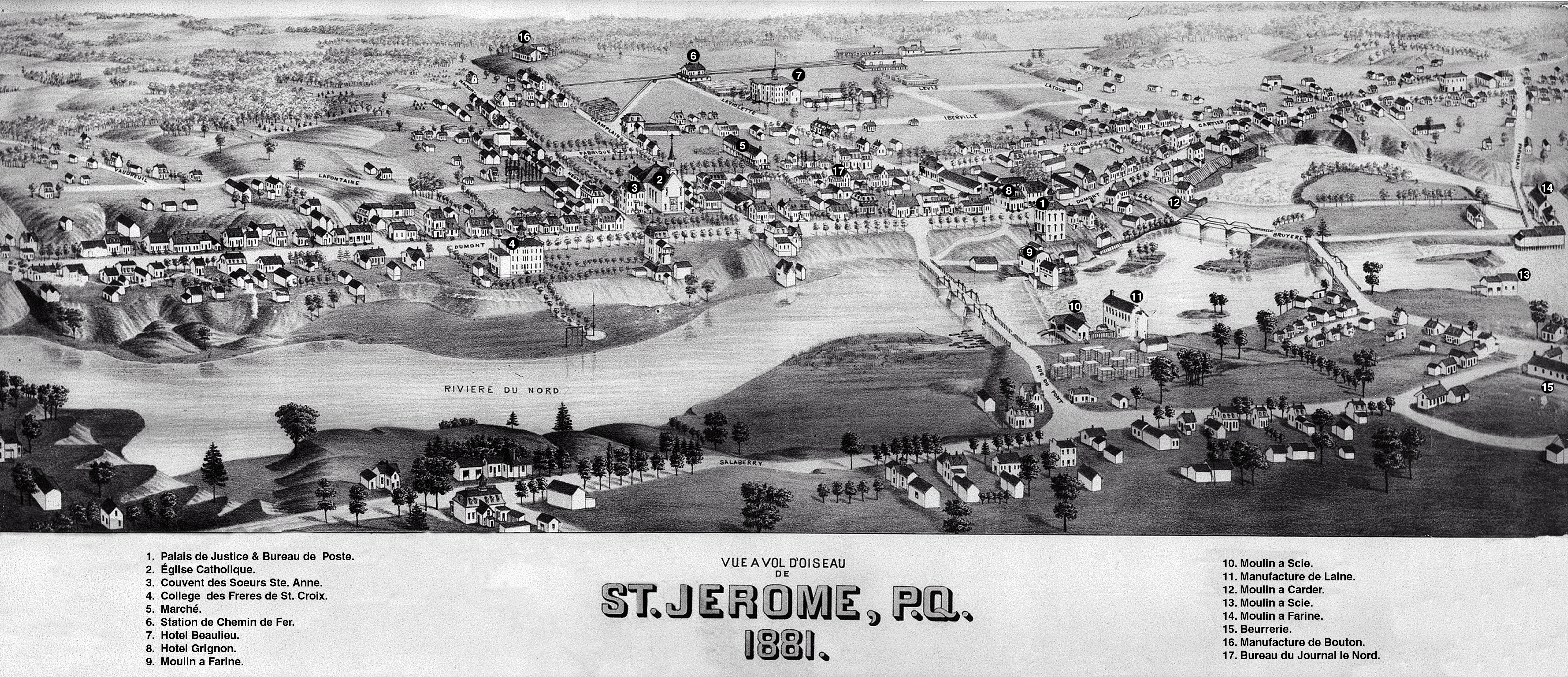 Designer: P. F. Soucy
Date: 1881
Source: City of Saint-Jérôme
The newspaper Le Nord wrote of this map in its October 13, 1883, edition:
MAGNIFICENT SOUVENIR – Yesterday we welcomed Mr. P.F. Soucy, who is at the moment busy collecting subscriptions to purchase his splendid Bird's-eye View of the Town of Saint-Jérôme.
In perusing this work, we easily located, right away, even the smallest residence of our town. That is to say that this work is very well executed and leaves nothing to be desired in any respect.
All of the public buildings, educational institutions and others of any importance are designated by a foot-note underneath the drawing.
This work is certainly the most complete and beautiful as can be rendered of our city.
For residents of Saint-Jérôme, this work should have pride of place in the living-room, and shall be, a few years hence, the most marvellous souvenir imaginable of Saint-Jérôme today.
We are sure that no one will want to miss out on purchasing this work once, like us, they have had the chance to admire the precision with which each private home has been drawn; one can also make out the names of the streets, etc., etc.
This is a true work of art and we are convinced that here and elsewhere, the promoters of this commendable enterprise shall record a sufficient number of buyers to ensure their work is a success.
At the same time, Mr. Soucy showed us several views of other cities, and we were similarly struck by the perfectly rendered detail that sets them apart.
All of his views have sold very well, and have satisfied not only the promoters, but the subscribers as well. It is thus to be hoped that the same will be true of Saint-Jérôme and that before long, the view of Saint-Jérôme shall be seen in all our homes.