Go back
Announcement of the Death of Curé Labelle, Text by J.J. Grignon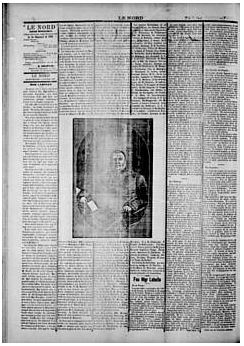 Author: Joseph-Jérôme Grignon, Journal Le Nord, January 8, 1891
Reader: Audrey Lemieux, 16, student of Frenette High School, Saint-Jérôme, 2016
Reading by a teenage girl of a newspaper article published in the days following the death of the parish priest Labelle.
Le Nord, Saint-Jérôme, January 8, 1891
Monseigneur Labelle
The motherland mourns: one of her most valiant sons, Mgr Labelle, succumbed Sunday to a sudden illness which, with his nearly superhuman constitution, he had mocked until then.
There is a horrible void in Saint-Jérôme; an abyss opens at her feet. Her glory, her pride, the man who was her breath of life, of sorts, has passed on.
Yes, broken like a blade of grass this giant in body, heart and mind who shouldered, for 23 years, the fate of the North and of Saint-Jérôme! Yes, fallen into the dust of death, the King of our Mountains whose pacific glory as a conqueror of the land drew forth governors and won him fame even beyond the seas!
Yes, fallen, broken, the second father of Saint-Jérôme, even as she needs the comfort of his great heart! O Death! These are thy blows.
Need we paint the shroud of affliction spread across our city? Or take a step without our eyes falling upon some object that revives the memory of this deceased dear to us all?
These elegant buildings, streets adorned with flourishing firms, rich factories, railways linking us to forests north and capitals south… all this gigantic metamorphosis is of his hand. What humble threshold has not seen the great man, confidant of governments, bringing an indelible smile of joy, love and charity? What faint echo does not repeat to Jérômiens' hearts those words, by turns ardent with patriotism, harmonious with sacred inspiration, often sublime, cheerful, always eloquent and original, that nurtured among his flock the love of religion, of progress and of country?
What mouth does not praise such a grand benefactor?
He has stepped into immortality! May his memory, his enduring work and the example of his life arouse worthy successors in the province, among the settlers and in Saint-Jérôme!