Go back
Women Against the Budget meeting information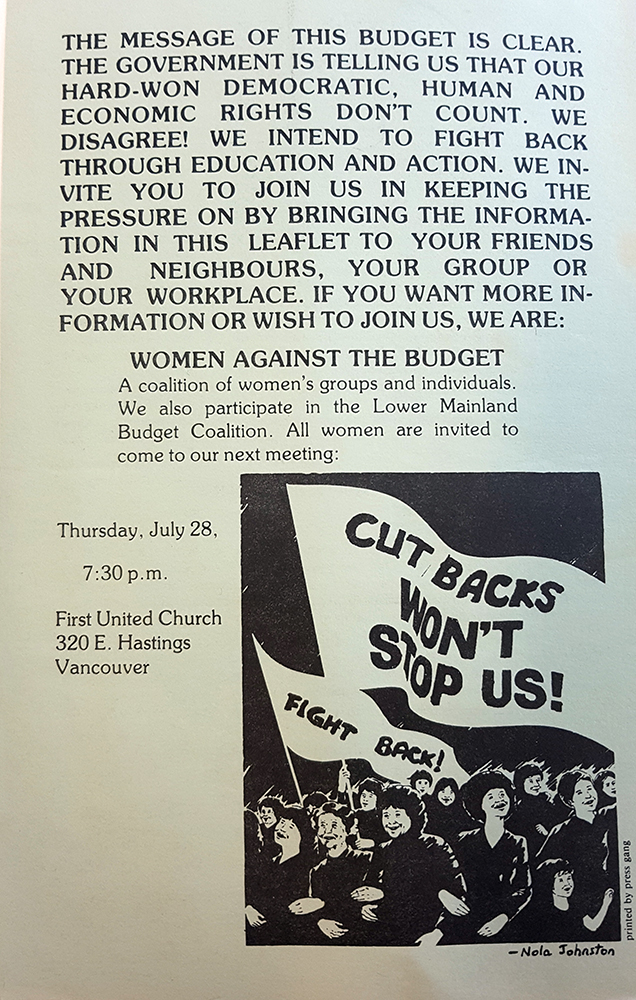 Kate Braid fonds, Simon Fraser University.
On July 13, 1983 a group calling itself Women Against the Budget was formed.  It was a broad-based umbrella organization of women who became a force in the Solidarity Coalition.
Transcription
THE MESSAGE OF THIS BUDGET IS CLEAR. THE GOVERNMENT IS TELLING US THAT OUR HARD-WON DEMOCRATIC, HUMAN AND ECONOMIC RIGHTS DON'T COUNT. WE DISAGREE! WE INTEND TO FIGHT BACK THROUGH EDUCATION AND ACTION. WE INVITE YOU TO JOIN US IN KEEPING THE PRESSURE ON BY BRINGING THE INFORMATION IN THIS LEAFLET TO YOUR FRIENDS AND NEIGHBOURS, YOUR GROUP OR YOUR WORKPLACE. IF YOU WANT MORE INFORMATION OR WISH TO JOIN US, WE ARE:
WOMEN AGAINST THE BUDGET
A coalition of women's groups and individuals. We also participate in the Lower Mainland Budget Coalition. All women are invited to come to our next meeting:
Thursday, July 28.
7:30 p.m.
First United Church
320 E. Hastings
Vancouver
CUT BACKS WON'T STOP US! FIGHT BACK!