Go back
"Stop the attack on Working People" leaflet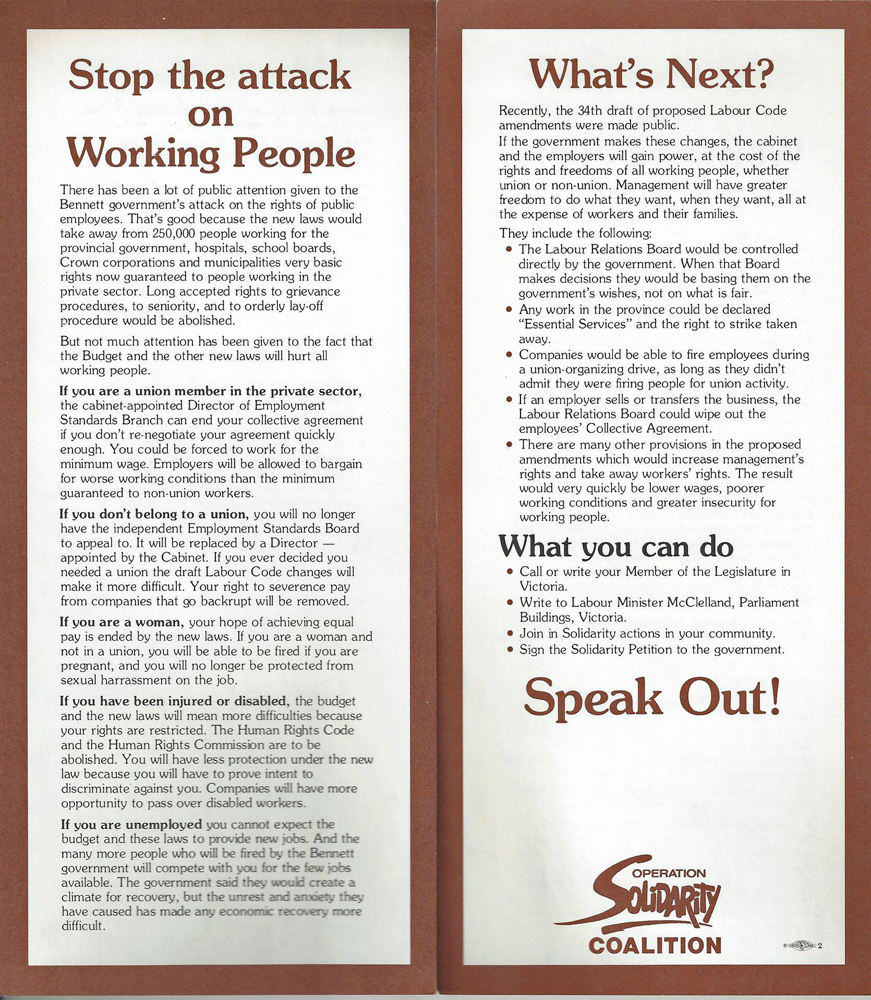 Patsy George Solidarity Collection, BC Labour Heritage Centre
The Solidarity Coalition and Operation Solidarity jointly published a leaflet explaining that the proposed legislation affected more than unionized workers.
Transcription
Stop the attack on Working People
There has been a lot of public attention given to the Bennett government's attack on the rights of public employees. That's good because the new laws would take away from 250,000 people working for the provincial government, hospitals, school boards, Crown corporations and municipalities very basic rights now guaranteed to people working in the private sector. Long accepted rights to grievance procedures, to seniority, and to orderly lay-off procedures would be abolished.
But not much attention has been given to the fact that the Budget and other new laws will hurt all working people.
[bold] If you are a union member in the private sector, [end bold] the cabinet-appointed Director of Employment Standards Branch can end your collective agreement if you don't re-negotiate your agreement quickly enough. You could be forced to work for the minimum wage.  Employers will be allowed to bargain for worse working conditions that the minimum guaranteed to non-union workers.
[bold] If you don't belong to a union, [end bold] you will no longer have the independent Employment Standards Board to appeal to.  It will be replaced by a Director – appointed by the Cabinet. If you ever decided you needed a union the draft Labour Code changes will make it more difficult. Your right to severance pay from companies that go bankrupt will be removed.
[bold] If you are a woman, [end bold] your hope of achieving equal pay is ended by the new laws. If you are a woman and not in a union, you will be able to be fired if you are pregnant, and you will no longer be protected from sexual harassment on the job.
[bold] If you have been injured or disabled, [end bold] the budget and the new laws will mean more difficulties because your rights re restricted. The Human Rights Code and the Human Rights Commission are to be abolished. You will have less protection under the new law because you will have to prove intent to discriminate against you. Companies will have more opportunity to pass over disabled workers.
[bold] If you are unemployed [end bold] you cannot expect the budget and these laws to provide new jobs. And the many more people who will be fired by the Bennett government will compete with you for the few jobs available. The government said they would create a climate for recovery, but the unrest and anxiety they have caused has made any economic recover more difficult.
What's Next?
Recently, the 34th draft of proposed Labour Code amendments were made public.
If the government makes these changes, the cabinet and the employers will gain power, at the cost of the rights and freedoms of all working people, whether union or non-union. Management will have greater freedom to do what they want, when they want, all at the expense of workers and their families.
They include the following:
The Labour Relations Board would be controlled directly by the government. When that Board makes decisions they would be basing them on the government's wishes, not on what is fair.
Any work in the province could be declared "Essential Services" and the right to strike taken away.
Companies would be able to fire employees during a union-organizing drive, as long as they didn't admit they were firing people for union activity.
If an employer sells or transfers the business, the Labour Relations Board could wipe out the employees' Collective Agreement.
There are many other provisions in the proposed amendments which would increase management's rights and take away workers' rights. The result would very quickly be lower wages, poorer working conditions and greater insecurity for working people.
What you can do
Call or write your Member of the Legislature in Victoria.
Write to Labour Minister McClelland, Parliament Buildings, Victoria.
Join in Solidarity actions in your community.
Sign the Solidarity Petition to the government.
Speak Out!
[logo] OPERATION SOLIDARITY COALITION