Go back
"Stop the attack on Tenants Rights" leaflet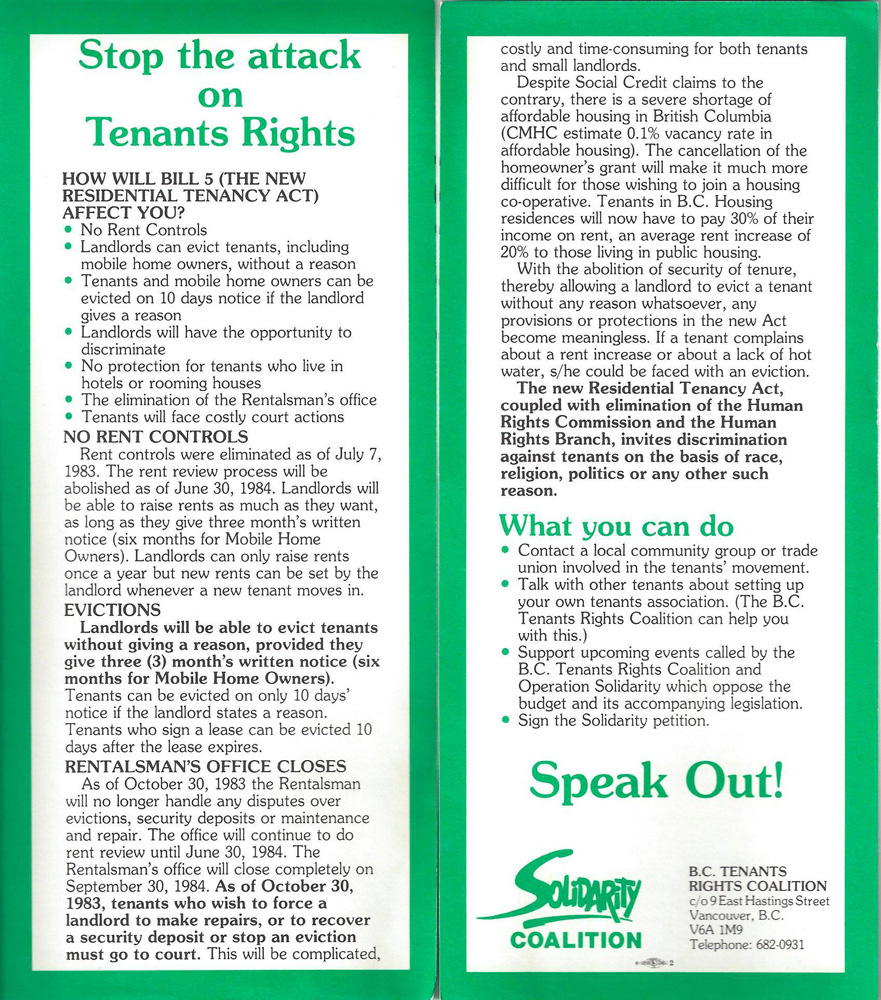 Patsy George Solidarity Collection, BC Labour Heritage Centre
The BC Tenants Rights Coalition and the Solidarity Coalition issued this leaflet to explain the proposed changes to the Residential Tenancy Act and urging the public to speak out.
Transcription:
Stop the Attack on Tenants Rights
HOW WILL BILL 5 (THE NEW RESIDENTIAL TENANCY ACT) AFFECT YOU?
No Rent Controls
Landlords can evict tenants, including mobile home owners, without a reason
Tenants and mobile home owners can be evicted on 10 days notice if the landlord gives a reason
Landlords will have the opportunity to discriminate
No protection for tenants who live in hotels or rooming houses
The elimination of the Rentalsman's office
Tenants will face costly court actions
NO RENT CONTROLS
Rent controls were eliminated as of July 7, 1983.  The rent review process will be abolished as of June 30, 1984. Landlords will be able to raise rents as much as they want, as long as they give three month's written notice (six months for Mobile Home Owners). Landlords can only raise rents once a year but new rents can be set by the landlord whenever a new tenant moves in.
EVICTIONS
[bold] Landlords will be able to evict tenants without giving a reason, provided they give three (3) month's written notice (six months for Mobile Home Owners). [end bold] Tenants can be evicted on only 10 days' notice if the landlord states a reason. Tenants who sign a lease can be evicted 10 days after the lease expires.
RENTALSMAN'S OFFICE CLOSES
As of October 30, 1983 the Rentalsman will no longer handle any disputes over evictions, security deposits or maintenance and repair. The office will continue to do rent review until June 30, 1984. The Rentalsman's office will close completely on September 30, 1984. [bold] As of October 30 1983, tenants who wish to force a landlord to make repairs, or to recover a security deposit or stop an eviction must go to court. [end bold] This will be complicated, costly and time-consuming for both tenants and small landlords.
Despite Social Credit claims to the contrary, there is a severe shortage of affordable housing in British Columbia (CMHC estimate 0.1% vacancy rate in affordable housing). The cancellation of the homeowner's grant will make it much more difficult for those wishing to join a housing co-operative. Tenants in B.C. Housing residents will now have to pay 30% of their income on rent, an average rent increase of 20% to those living in public housing.
With the abolition of security of tenure, thereby allowing a landlord to evict a tenant without any reason whatsoever, any provisions or protections in the new Act become meaningless. If a tenant complains about a rent increase or about a lack of hot water, s/he could be faced with an eviction.
[bold] The new Residential Tenancy Act, coupled with the elimination of the Human Rights Commission and the Human Right Branch, invites discrimination against tenants on the basis of race, religion, politics or any other such reason. [end bold]
What you can do
Contact a local community group or trade union involved in the tenants' movement.
Talk with other tenants about setting up your own tenants association. (The B.C. Tenants Rights Coalition can help you with this.)
Support upcoming events called by the B.C. Tenants Rights Coalition and Operation Solidarity which oppose the budget and its accompanying legislation.
Sign the Solidarity petititon.
Speak Out!
SOLIDARITY COALITION [logo]
B.C. Tenants Rights Coalition
c/o 9 East Hastings Street
Vancouver, B.C.
V6A 1M9
Telephone: 682-0931