Go back
Rallies across British Columbia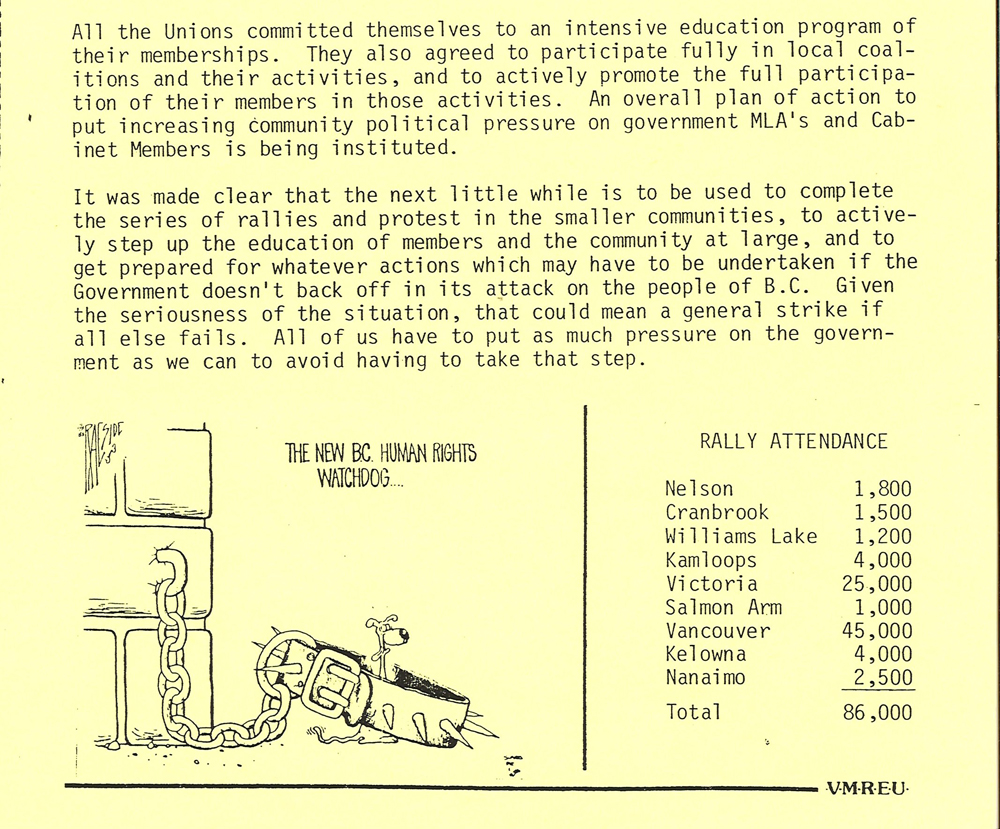 Courtesy Joey Hartman file, BCLHC Solidarity Collection
Opposition to the provincial budget crossed union and community lines as pressure was put on government MLAs in their own communities to back off on its legislative package.
Transcription:
All the Unions committed themselves to an intensive education program of their memberships.  They also agreed to participate fully in local coalitions and their activities, and to actively promote the full participation of their members in those activities.  An overall plan of action to put increasing community political pressure on government MLA's and Cabinet Ministers is being instituted.
It was made clear that the next little while is to be used to complete the series of rallies and protest in smaller communities, to actively step up the education of members and the community at large, and to get prepared for whatever actions which may have to be undertaken if the Government doesn't back off in its attack on the people of B.C. Given the seriousness of the situation, that could mean a general strike if all else fails.  All of us have to put as much pressure on the government as we can to avoid having to take that step.
[Cartoon shows small dog seated inside large spiked dog collar which is chained to a brick wall.] THE NEW B.C. HUMAN RIGHTS WATCHDOG…. RAESIDE [cartoonist signature]
RALLY ATTENDANCE
Nelson 1,800
Cranbrook 1,500
Williams Lake 1,200
Kamloops 4,000
Victoria 25,000
Salmon Arm 1,000
Vancouver 45,000
Kelowna 4,000
Nanaimo 2,500
Total 86,000
VMREU