Co-op at 60 – Honouring the Builders
Over the years, the builders gathered on various anniversaries. Realizing that the 60th anniversary was approaching in 2016, three daughters of the co-op met. They were joined by others and formed the "Co-op at 60 Working Group," inviting co-op parents John and Patricia Blake to serve as advisers.
They began by holding a "Fireside Chat" for co-op families at the Grimsby Library. Friendships were renewed, funds raised, and skills offered, including the digitization of 8-mm footage of the build recorded by John Blake. It was at that time that the group was invited to display a three-month exhibit at the Grimsby Museum. This digitized footage, along with the 8-minute original film, became the centrepiece of the museum exhibit.
Thanks to the parents who had previously donated their photos and documents, the Grimsby Archives was a treasure trove. Over our 2½-year preparation, the Archives promoted our event and included our project in their calendar. The Grimsby Museum promoted us at Doors Open 2015, and St. Joseph's Church hosted a preliminary exhibit to honour co-op parishioners.
New material was discovered in libraries and archives across the country. Interviews were conducted with some of the original builders and friends of the co-op, including Bishop Sherlock and Monsignor O'Brien. As footage was edited, photos cleared, and story panels created, the exhibit was designed and brought to life by numerous volunteers and the Grimsby Museum staff.  A memorial bench for the parents was erected at Bishop Marrocco Park.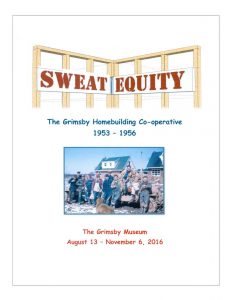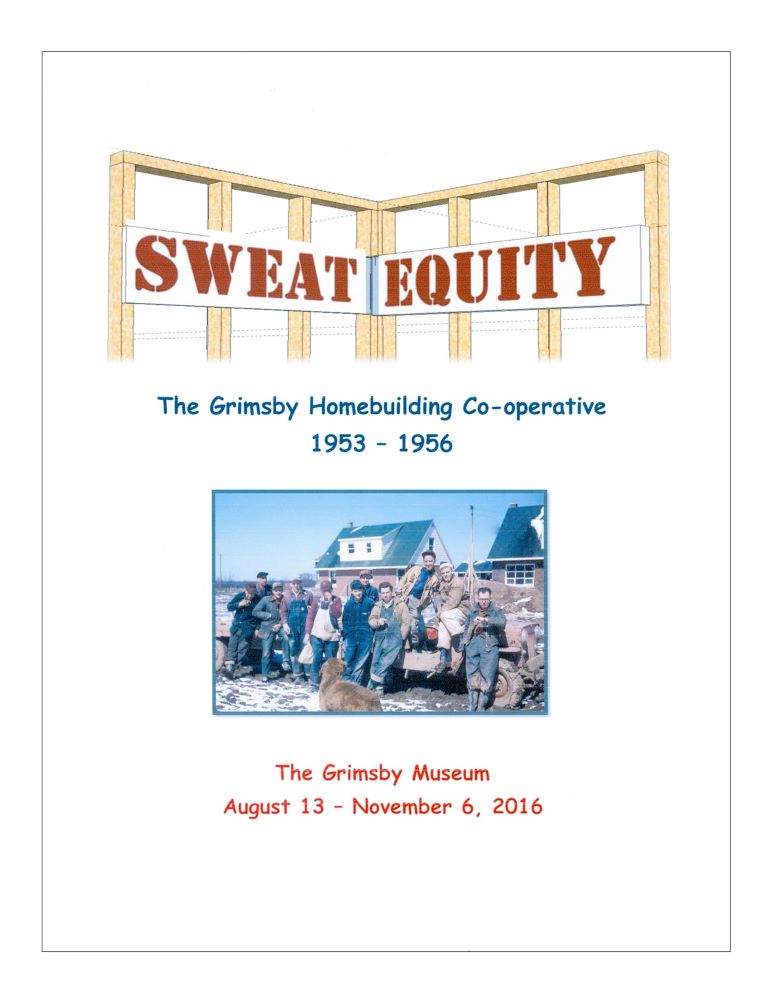 The opening day of the Sweat Equity exhibit reunited many co-op families. The co-op builders were given a free pass to attend as often as they wished. Over the three months, extended families came from around the country and the world. What a pleasure it was to learn more about their story and to honour their remarkable co-operative endeavour.