Go back
Bell Island iron mine exports, 1935-1945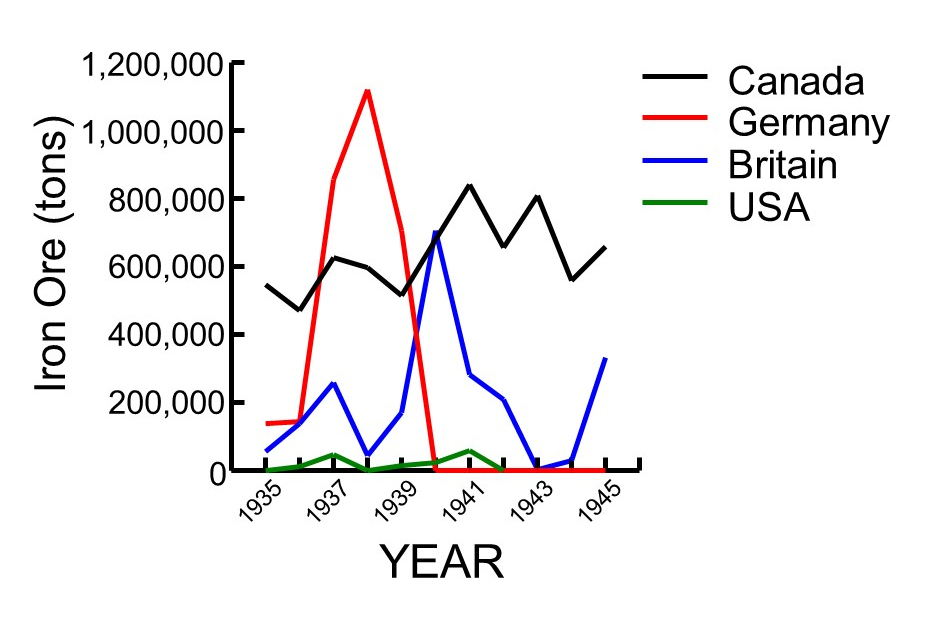 © Shipwreck Preservation Society of Newfoundland & Labrador Inc. 2019
data from:  Newfoundland House of Assembly (1947) Report of the Mining Committee of the National Convention. St. John's, Newfoundland.

A graph showing tons of iron ore shipped per year to various countries from the mines of the Dominion Steel and Coal Corporation (DOSCO) on Bell Island, Newfoundland. The exports to Canada went to the DOSCO steel mills in Sydney, Nova Scotia.
Nazi Germany was the biggest customer from January 1935 to August 1939, buying almost 3 million tons of iron ore from Bell Island.
Once the World War II started in September 1939, Canada became the biggest buyer of Bell Island ore. Canada purchased over 4 million tons of ore between January 1940 and December 1945.
Iron ore exports from Bell Island to Britain increased to a peak of 705,195 tons in 1940, but declined to just 2,400 tons in 1943. The decline resulted mainly from increasing U-boat attacks on Allied shipping in 1942 and early 1943 in the Atlantic. The cargo priorities for trans-Atlantic convoys to Britain shifted from raw materials like iron ore to weapons, troops and food as the war progressed.