Go back
Memory of the Soldiers' Return at Bonaventure Station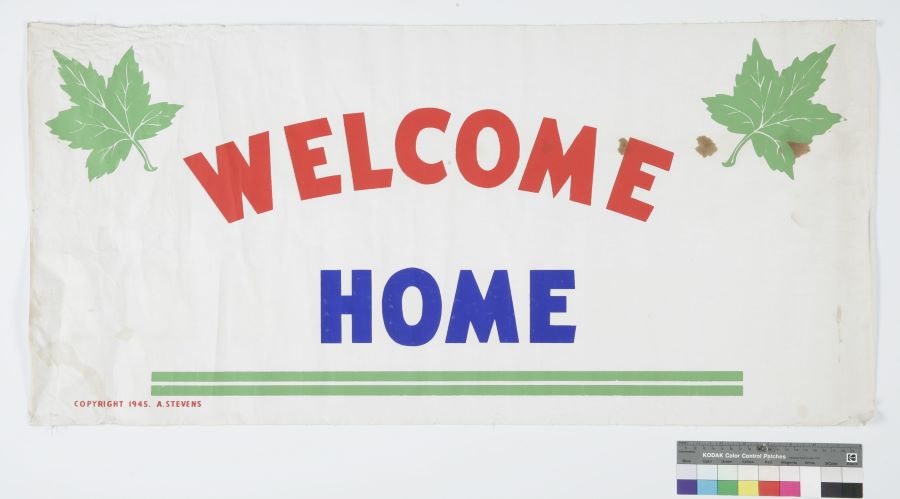 Photograph
Date: 1945
Source: Copyright 1945. A. Stevens
Canadian War Museum (20100119-003) https://www.museedelaguerre.ca/collections/artifact/2212850
Audio clip
Date: 1994
Source: Courtesy of Serge Durflinger 
Translated excerpt of an interview with Noëlla Bisson (N.B.) and her husband René Bisson (R.B.) by historian Serge Durflinger.
N.B.: They arrived at the hotel, at the Bonaventure Hotel. You arrived at the Bonaventure Hotel.
R.B.: At the [Bonaventure] station, at the station.
N.B.: It was awful. Everyone looking for their husband, their fiancé.
R.B.: Yeah, we'd received some […]
N.B.: My brother-in-law was the only one who had a car back then,[…] and he took me. I was his fiancée (referring to René). I went to look for him. He had a small car. I think we were like 7 in the car.
N.B.: Tiny cars, eh René?
René: Oh yeah.
N.B.: And then he arrived with his bags. We all got into the car, one on top of the other. When you arrived, you were all dirty. Eh, you were all dirty?
N.B.: Everyone just kept yellin' and hollerin'. And all the streets, even his mother ,everyone had decorated with flags. Decorations everywhere, [with] banners Welcome Home.