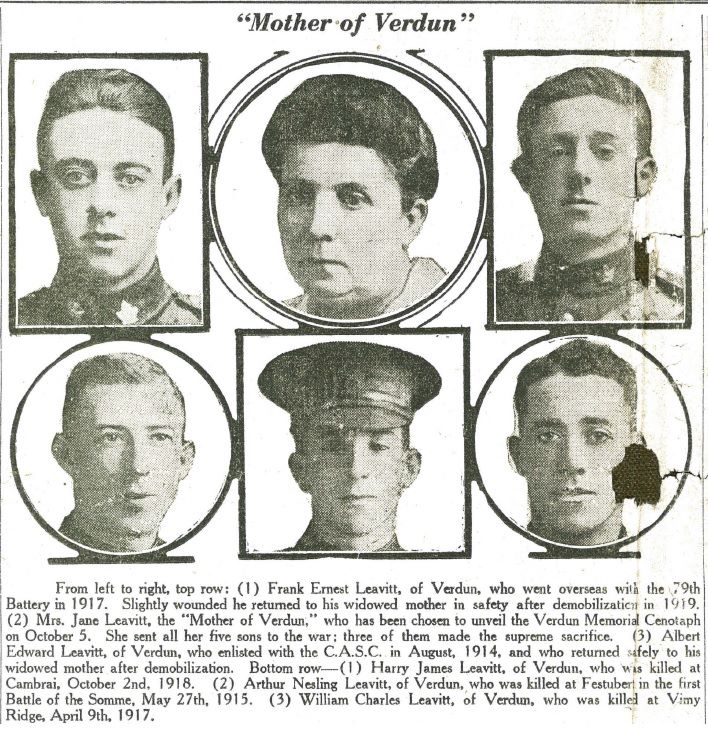 Date: September 25, 1924
Source: The Montreal Daily Star / Verdun Borough Archives
This article features Jane Leavitt, a British immigrant, born in London, who arrived in Verdun in 1913 with her family.
She was chosen by the War Memorial Committee to represent the mothers of Verdun who lost sons during the First World War. Five of her nine sons fought in the war: one returned unhurt, one was injured and three, were killed. From then on, she was known as the "Mother of Verdun." 
On October 5, 1924, she unveiled a monument, The Victory Memorial, in a park at the corner of Wellington Street and Mullarkey Avenue (present-day LaSalle Boulevard). In 1959, it was moved in front of City Hall, in Parc du Souvenir.
Transcription of the text below the photograph:
''Mother of Verdun''
From left to right, top row: (1) Frank Ernest Leavitt, of Verdun, who went overseas with the 79 th Battery in 1917. Slightly wounded, he returned to his widowed mother in safety after demobilization in 1919. (2) Mrs. Jane Leavitt, ''The Mother of Verdun,'' who has been chosen to unveil the Verdun Memorial Cenotaph on October 5 th. She sent all her five sons to the war: three of them made the supreme sacrifice. (3) Albert Edward Leavitt, of Verdun, who enlisted with the C.A.S.C, in August, 1914, and who returned safely to his widowed mother after demobilization. Bottom row (1) Harry James Leavitt,
of Verdun, who was killed at Cambrai, October 2 nd , 1918. (2) Arthur Nesling Leavitt, of Verdun, of Verdun, who was killed at Festubert in the first Battle of the Somme, May 27 th , 1915. (3) William Charles Leavitt, of Verdun, who was killed at Vimy Ridge, April 9 th , 1917.