Go back
A Parade to Commemorate the Battle of Ypres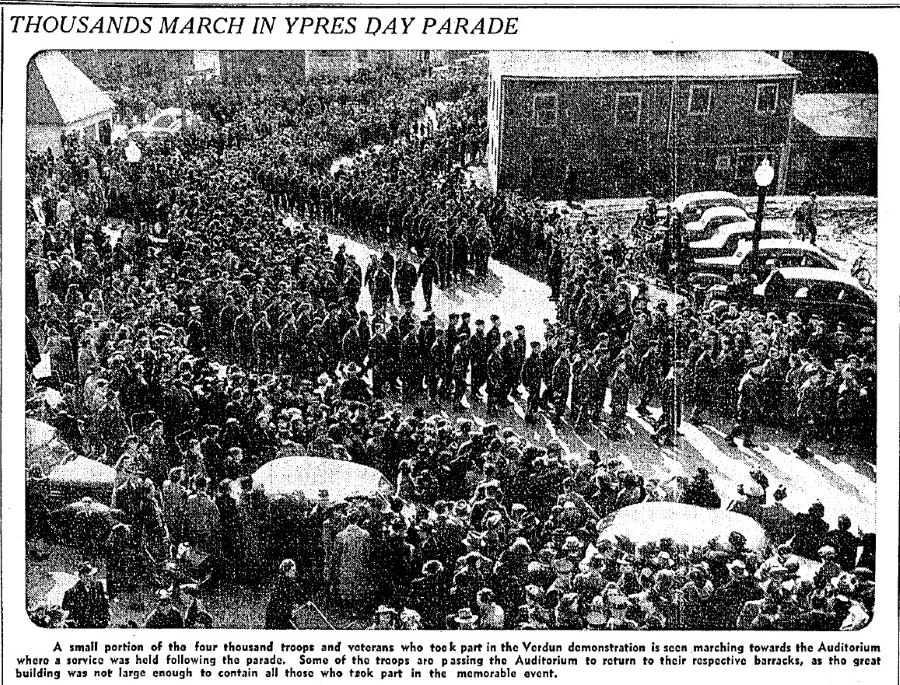 Date: April 23, 1943
Source: The Guardian, courtesy of Rohinton Ghandhi  
This photograph, dated April 23, 1943, shows some of the 4000 soldiers and veterans who participated in the parade commemorating the Battle of Ypres. The crowd was marching toward the Auditorium to attend a ceremony. 
In the 1930s and 1940s, the Ypres Day parade attracted thousands of onlookers in Verdun. The crowd was estimated at more than 30 000 people on April 25, 1929; 20 000 on April 24, 1939; and 35 000 on April 27, 1942.
Transcription of the text below the photograph:
A small portion of the four thousand troops and veterans who took part at the Verdun demonstration is seen marching toward the Auditorium where a service was held following the parade. Some of the troops are passing the Auditorium to return to their respective barracks, as the great building was not large enough to contain all those who took part in the memorable event.