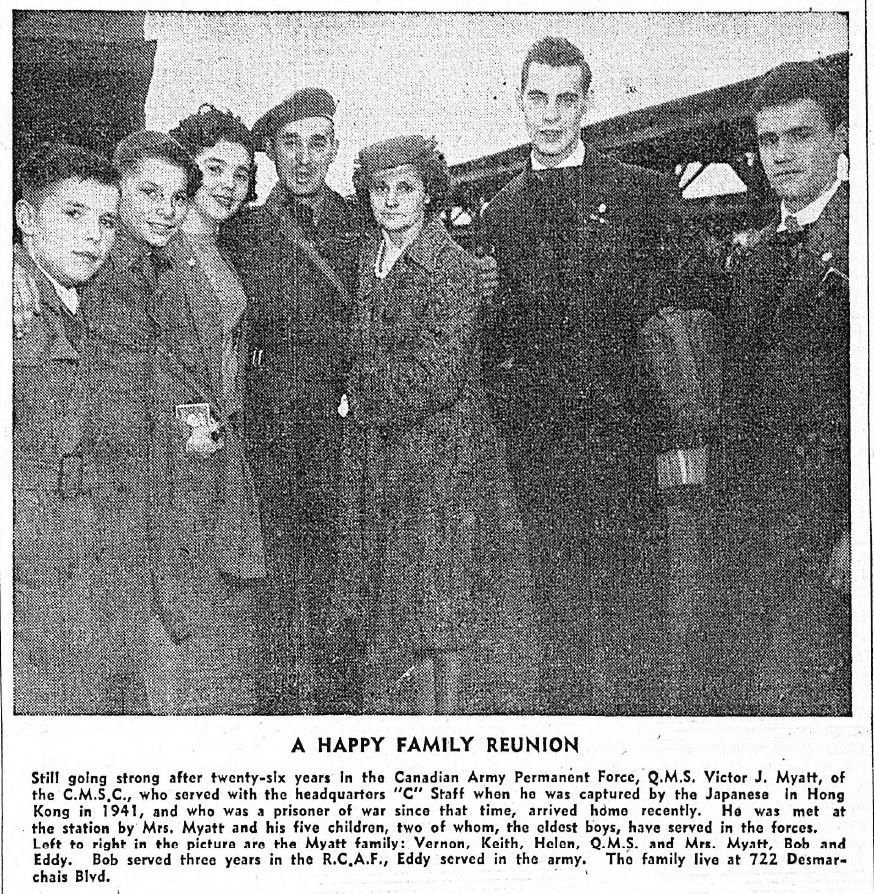 Date: October 25, 1945
Source: The Guardian, courtesy of Rohinton Ghandhi 
The newspaper article features private Victor J. Myatt who was captured and imprisoned by the Japanese in Hong Kong from December 1941 until the end of the war. He was greeted in October 1945 by his wife and five children at Bonaventure Station, including his two older sons who had become soldiers during his absence.
Transcription of the text below the photograph:
A HAPPY FAMILY REUNION
Still going strong after twenty-six years in the Canadian Army Permanent Force, Quartermaster Sergeant Victor J. Myatt, of the Corps of Military Staff Clerk, who served with the headquarters ''C'' staff when he was capture by the Japanese in Hong Kong in 1941, and who was a prisoner of war since that time, arrived home recently. He was met at the station by Mrs Myatt and his five children, two of whom, the eldest boys, have served in the forces. Left to right in the picture are the Myatt family: Vermon, Keith, Helen, Quartermaster Sergeant and Mrs. Myatt, Bob and Eddy. Bob served three years in the Royal Canadian Air Force, Eddy served in the army. The family live at 722 Desmarchais Boulevard.