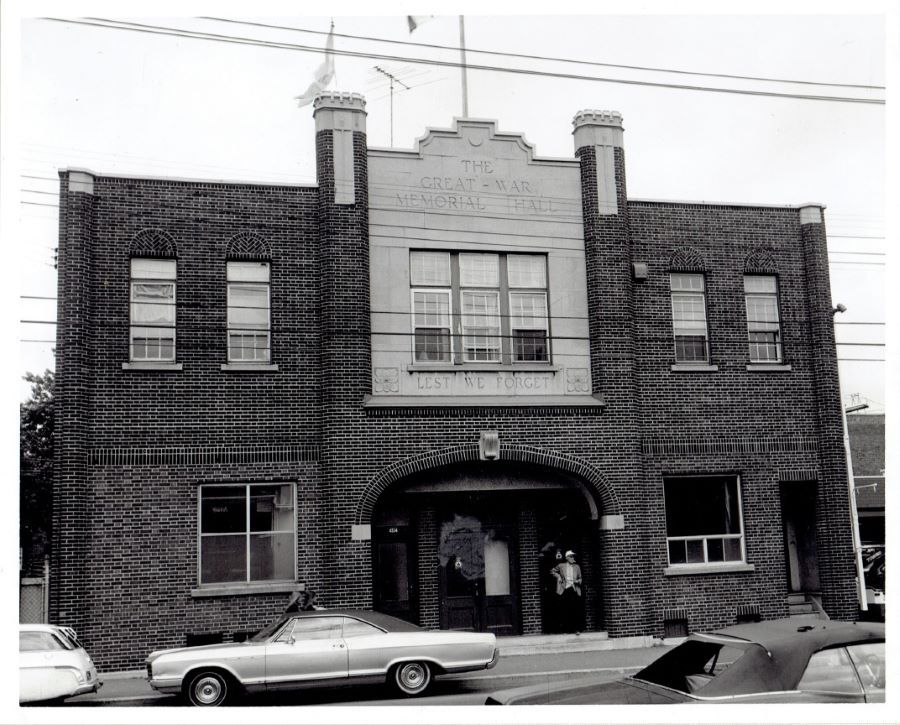 Date: Circa 1975 
Source: Royal Canadian Legion Archives, Branch 4 Verdun / Photo: Roger Brunelle 
In 1929, the Great War Memorial Hall became a gathering place for the members of Branch 4 Verdun of the Canadian Legion. The idea of building a hall, a commemorative site for the soldiers who fell in battle and a gathering place for those who returned, was a seed that took root in the minds of Verdunites starting in April 1919. Mayor Leclair provided the land, located on Verdun Avenue (now Street), between Willibrord and 1st Avenues. Montréal architect Frank -R. Foster designed and oversaw construction of the building. 
Its construction required major financing. The Legion organized several fundraising activities including its very popular annual fairs. The funds raised were also used to cover many of the branch's annual operating costs. 
The cornerstone of the Great War Memorial Hall was laid on April 20, 1929, and the building was inaugurated on September 6 of the same year in the presence of the Governor General of Canada, Lord Willingdon. The building had a meeting room and a spacious hall for the public specially designed for concerts, dances and various gatherings. The Great War Memorial Hall hosted many memorable events, including the provincial convention of the Canadian Legion on October 25, 1929.