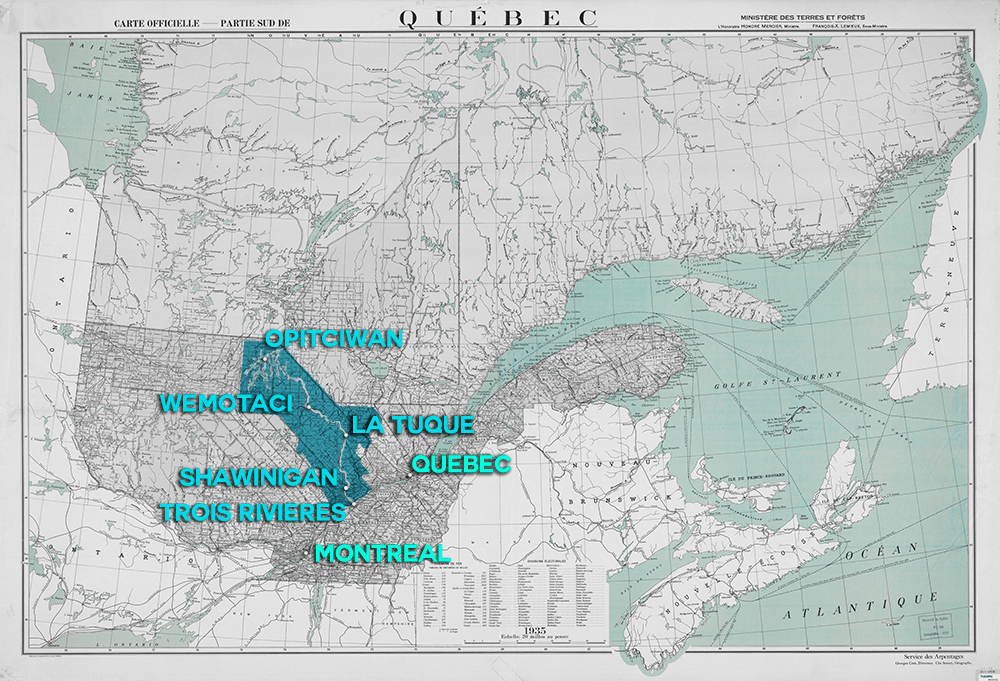 Map : BAnQ
Modification : Appartenance Mauricie Société d'histoire régionale
This map illustrates the territory through which the Saint-Maurice River flows. The different names borne by our regional river are all traces of its history. The Algonquins called it Metapilotenosopi (the river that shifts in the wind), Metapelodine (whirlwind) or Metaperoutine (exposed to all winds), because of the wind corridor created by the surrounding cliffs.
The Atikamekw called it Tapiskwan Sipi, referring to threads passed through a needle, like the 339 streams that swell the eddies of the Saint-Maurice. The explorer Jacques Cartier, who saw the river in 1535, called it "Rivière de Fouez." He never specified if it referred to the powerful Foix de Bretagne family or to the term "faith."
However, this name hasn't been used since the 17th century, as Navigators François du Pontgravé and Samuel de Champlain changed the name to "Rivière des Trois-Rivières." It was only in the mid-18th century that the name Saint-Maurice, after Sir Maurice Poulain de la Fontaine, started to be used.  In 1668, Poulain de la Fontaine cleared a fiefdom located on the west side of the river near its mouth.
Finally, after the Conquest, the English called it "Black River," and the term "Rivière des Chenaux" was also used in the 19th century. Since the mid-century, the name "Saint-Maurice River" is widely used among the population.