Go back
Helen Komadoski about cooking for the men on the site
2016

Interviewer: Bernadette Walsh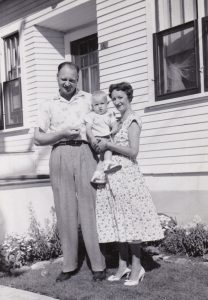 Feeding the workers The Komadoski family, Helen and Mike, had moved into their co-op home while the co-op was still in progress. She remembers cooking for some of the men who came straight to the worksite from their day jobs.
Transcription:
Jeanine is on the left of the screen and Helen is on the right.  they are both seated in chairs in front of a window.
[JANET- off Camera] But you had some time to make supper for some of the guys?
[HELEN] Yeah some of them came right straight from work and to my place like onto
[JANET – off Camera] On to Stewart Street?
[HELEN] yeah
[JANET – off Camera] and they came to do some work after a full day of work,
[HELEN] That's right
[JANET – Off camera] They would come out here to work a whole other five hours
[HELEN] I remember Michael said to me Helen, he said these people are going to be going straight to work, just your job like in the and I didn't have any family or I was just having a lazy picture you know what nothing to do.
[JEANINE] Okay I can remember Ted from here we had didn't have a car oh so you should travel by car pool and you go all the way to Westdale in Hamilton to work where his job is down Greening Wire and he'd come back out here and have a fast supper and out the door and go and work with all the fellows out here.
[JANET – off Camera] Wow, so you had them coming out and having you had their dinner at yours
[HELEN] Oh yeah I had them because I didn't work or anything so my Michael said "would you mind you know adding to the for just the two of us" and I said yeah so i made it more.
[JANET – off Camera]  More stew or more meat and potato's
[HELEN] Yeah stuff like that.