Houseboys and Housegirls
Japanese Canadians also found work as domestic servants. Although sometimes young women worked as "schoolgirls," domestic servants were usually young men called "schoolboys" or "houseboys." Sometimes older adults also acted as servants. Many started out doing this type of work, even some who had professional degrees.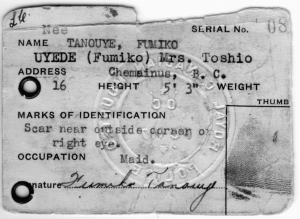 Edward Sano worked as a live-in domestic servant in the home of Dr. Burrows. Sano recalled that it was a good situation where he was treated fairly. He was trusted with responsibilities like chauffeuring and house sitting when the Burrows were away.
There were flexible boundaries. At times he felt like one of the family – befriending the Burrow children and sometimes eating with the family. Other times he was aware of clear distinctions that separated him from the Burrows, such as when he was not invited for Christmas dinner. Ed was able to complete Grade 12 while living and working in this household. He lived with the Burrows for 9 years.
But domestic labour in some cases did lead to deeper relationships. Jack Kobayashi was a "schoolboy" in the Rankin home. He received etiquette lessons and was encouraged to continue his schooling. He was also encouraged to start his career in pharmacy. Mrs. Rankin and her friends even lobbied on Jack's behalf to support his application for a pharmacist's license from the College of Pharmacy.
Fact:
In British Columbia, Asians could not vote and were barred from practicing certain professions, such as law and pharmacy.
Jack eventually became a pharmacist at Morey's Pharmacy. He recalled:
…a very British gentleman strode through the front door, marched directly to me at the dispensary, and with the military air of a British Colonel demanded a certain item. I politely told him that I could not sell him that product, at which he harumphed and bellowed, "Why don't you go back to where you came from!" I snapped back, "Sir, I was born here. Why don't you go back to where you came from!"