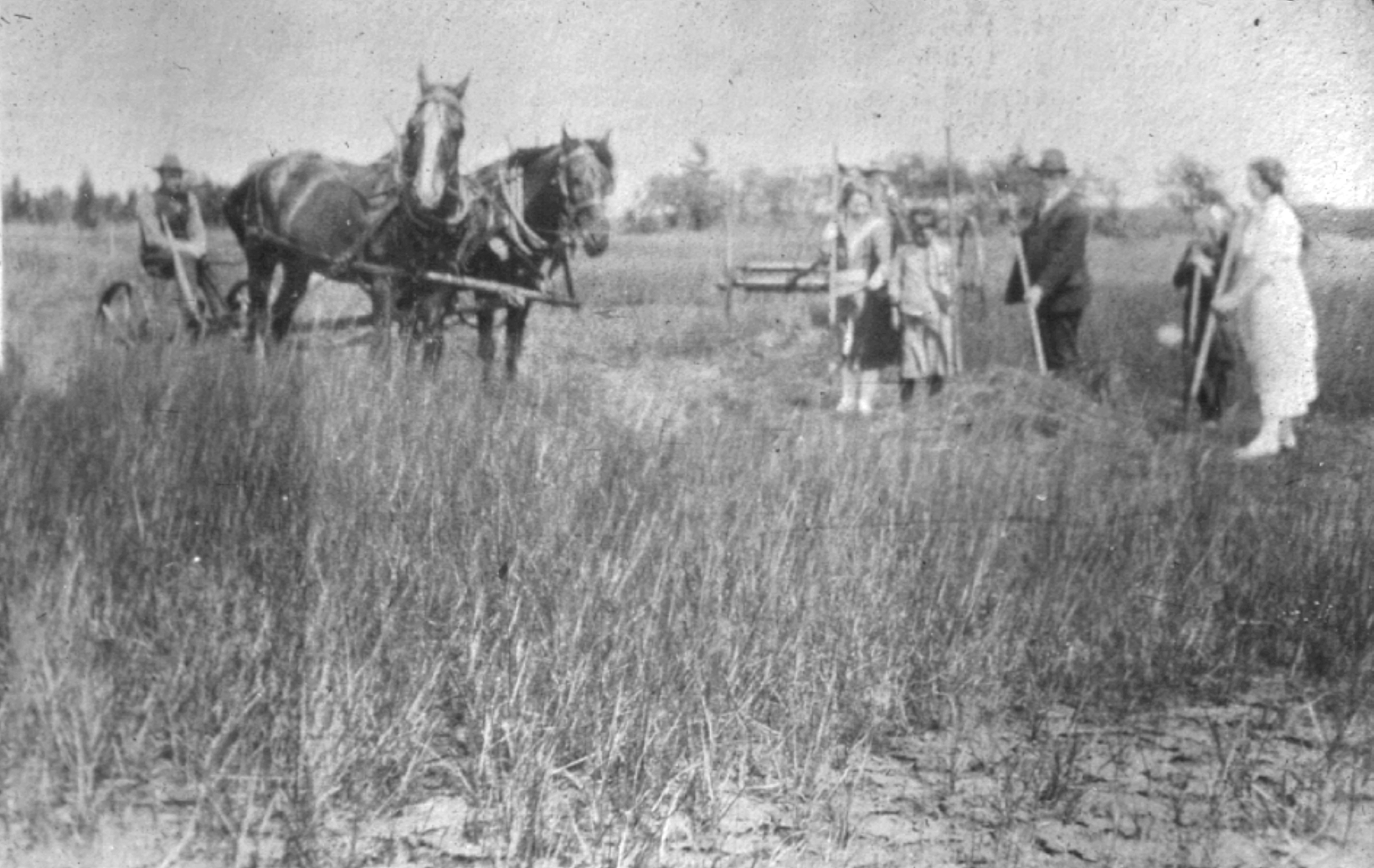 Audio: Written by Ian Forsyth, 1995, read by Ray Adams, 2018. Appeared as an appendix to The Life and Times of Peter Max Kuhn 1887 – 1938, by Bernard Kuhn, printed in 1995. Also appeared in the Spring 2010 edition of Cole Harbour Rural Heritage Society Newsletter.
Image: [19-?]. The Ira Settle Album. Cole Harbour Rural Heritage Society Archives.
Transcript:
Bernard Kuhn asked Mr. Forsyth to write a piece about his summer working on the Peter McNab Kuhn farm in Upper Lawrencetown as an appendix to Kuhn's work The Life and Times of Peter Max Kuhn 1887 – 1938.
One morning Max met me with the words "We are going to cut marsh hay to-day". "Marsh hay" was a new expression to me. I knew about upland hay which was chiefly timothy and brown top grass, but "marsh hay" what was this? Max harnessed the horse to the hay wain, attached the rake and mower behind and then beckoned to me to climb aboard. The scene of action was apparently a few miles distant but still on the farm. We travelled along a narrow, stoney, seldom used lane. About one third of the way along we came to what I can only call a slough. It was a depression filled with mud, scum, and dirty water. The hay rick sunk alarmingly deep but the horses stumbled and blundered on through it and up the further side of the depression. We were to encounter two more such impediments but then we came to an even more difficult barrier. It appeared as the ocean shore line. I was sure that Max would pause here but no – the horses with Max's encouragement and direction put to sea like old mariners. The wagon sunk lower and lower and I climbed for safety up the side of the rick. To my relief we began again to rise and finally came to shore on an island, the scene of our marsh hay. Max unharnessed the horses and attached them to the mower while I took my bearings. It was late in the season so the marsh hay did not take long to dry. By now we were getting hungry so we left the raking until after we had eaten our lunch, and so we settled down to enjoy it. When we finished we glanced at each other and our glance said just one thing. Much as we had enjoyed our lunch we could have eaten more. I must have been still growing for my appetite was nothing less than voracious.
We picked ourselves up and prepared to load the hay. It was now that I discovered the true nature of marsh hay. It was a devious, untrustworthy kind of fodder. No sooner than you thought you had got the hay built up well and had turned to get another forkful than you heard a swish behind you. When you turned great gobs of hay were sliding to the ground. Marsh hay was indeed different from the upland variety. Its surface was smoother, it lacked the slight roughness which helped to hold the timothy and brown top varieties together. It was shamelessly deceitful – no wonder even the horses were not very fond of it. Uttering a few disparaging words Max and I started again to build a load, being more careful to tuck in all the strands. When the load was rebuilt we set the binding pole in place and tied it tightly. Once more the long drive home and the hazards which by now had become less fearful.
(Image: Cutting hay on the Cole Harbour dyke, with Jack Settle seated on a horse drawn mower.)