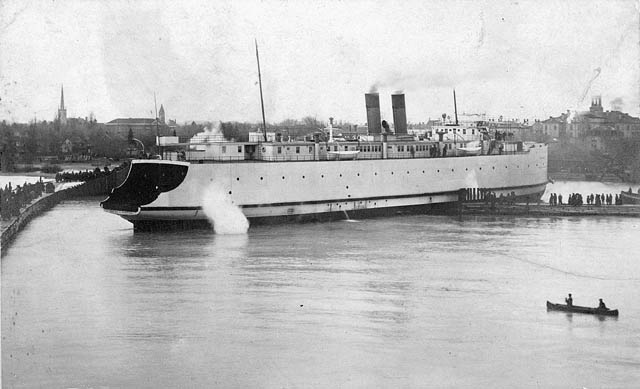 Ontario Car Ferry No. 1
Credit: www.cobourghistory.ca
On January 6, 1924, Ontario No. 1 sailed from Port Charlotte and soon encountered a heavy gale with 20 foot swells and 75 knots of wind. After making only one and a half miles in one hour, Captain Redfearn decided to run with the storm.
By early the next morning the vessel had arrived at the approaches to Toronto harbour, but Captain Redfearn decided not to enter the harbour. Instead he cruised up and down the shore off Port Credit and rode out the storm until morning. The vessel was coated with a thick layer of ice – 3 feet on the deck and the pilot house and windows were covered.
It was January 8 by the time Ontario No. 1 arrived in Cobourg. Bells of the Town Hall and the churches rang as the citizens of Cobourg rejoiced at her safe return.