Go back
The modern route setter and his equipment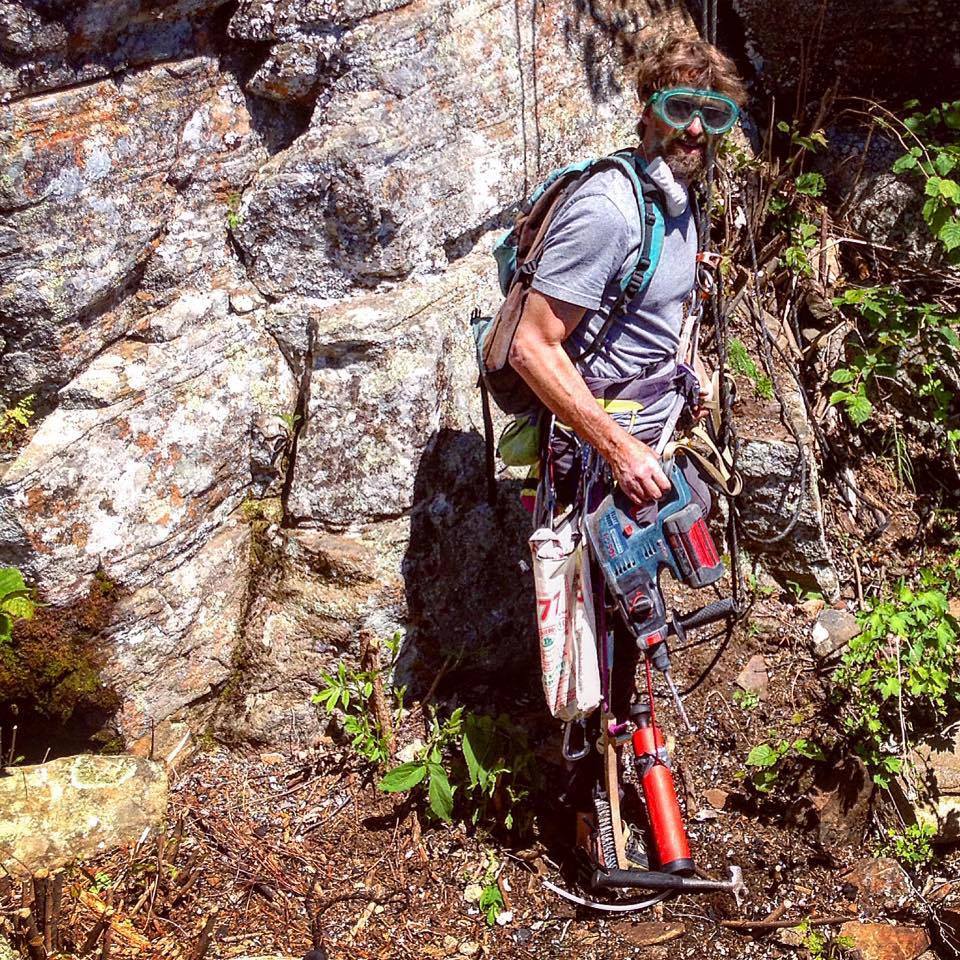 Source:
Photo credit: Patrick Pronovost
Opening up a new route requires that it first be scrubbed and cleaned (removing moss and lichen); then purged (removing loose rocks); permanent anchors (safety equipment) installed in the rock. Opening a route also requires climbing for the first time without falling and by means of only what natural holds the rock face has to offer.
Here is a list of route setters and first ascensionists who have contributed and left their mark on the rock walls of Val-David. The two most prolific are Paul Laperrière and Pierre Cornellier.
In alphabetical order:
Alexandre Charest
André Hébert
André Laperrière
André Lesage
Antoine (canard) Séguin
Benoit Dubé
Bernard Doth
Bernard Poisson
Brian Rothery
Bruno Haché
Camille Choquette
Chantal Kirouac
Christiane Lelièvre
Claire Brazeau
Claude Côté
Claude Lavallée
Daniel Lévesque
Daniel Perrault
Daniel Thériault
Dick Wilmott
Dominique Forget
Dominique Trudeau
Éliot Forget-Laperrière
Élizabeth Brett
François Demers
François Garneau
François Parent
François Roy
Franz Ewald
Fritz Wiessner
Georges Hampson Dulfer
Georges Laurin
Georges Tait
Gérard Bourbonnais
Ghislain Allard
Gilles Léonard
Gilles Parent
Granville (Red) Austin
Guy Lacelle
Guy Parent
Heinrich Habel
Henry Chanzy
Hubert Morin
Jacqueline Magdeleine
Jacques Lambert
Jacques Lemay
Jacques Lemenestrel
Jean Laperrière
Jean-Dominique Saudan
Jean-François (Jeff) Beaulieu
Jean-François Denis
Jean-François Dumont
Jean-François Gagnon
Jean-Pierre (Pee-Wee) Ouellet
Jean-Pierre Ferron
Jean-Pierre Renaud
Jérôme Homier
Joe Francioni
John Brett
John Turner
José Dionisio
Julien Déry
Julien Labedan
Laurent Homier
Louis Babin
Louise Huot
Luc Laperrière
Luc Rivest
Marc Blais
Marc-André Nantel
Marcel Lehoux
Marie-Geneviève Lavergne
Mario Létourneau
Martin Boiteau
Martine Lavallée
Maurice Charbonneau
Maurice Patenaude
Michael Provost
Mike Ward
Nadine Gagnon
Noël Ducharme
Normand Cadieux
Normand Lapierre
Patrick Prénovost
Paul Laperrière
Pete Covo Chico
Peter Gernassnig
Pierre (Pedro) Tessier
Pierre Cornellier
Pierre-Édouard Gagnon
Raymond Jotterand
Régis Richard
René Boisselle
Richard (Dick) Willmott
Richard Auger
Robert Ward
Samuelle Watson
Sébastien Richer
Stéphane Audette
Thomas Ryan
Vicky Amyot
Youri Del Rio
Yves Chouinard