Go back
Painting of the Aiguille du mont Condor by Christo Stefanoff around 1955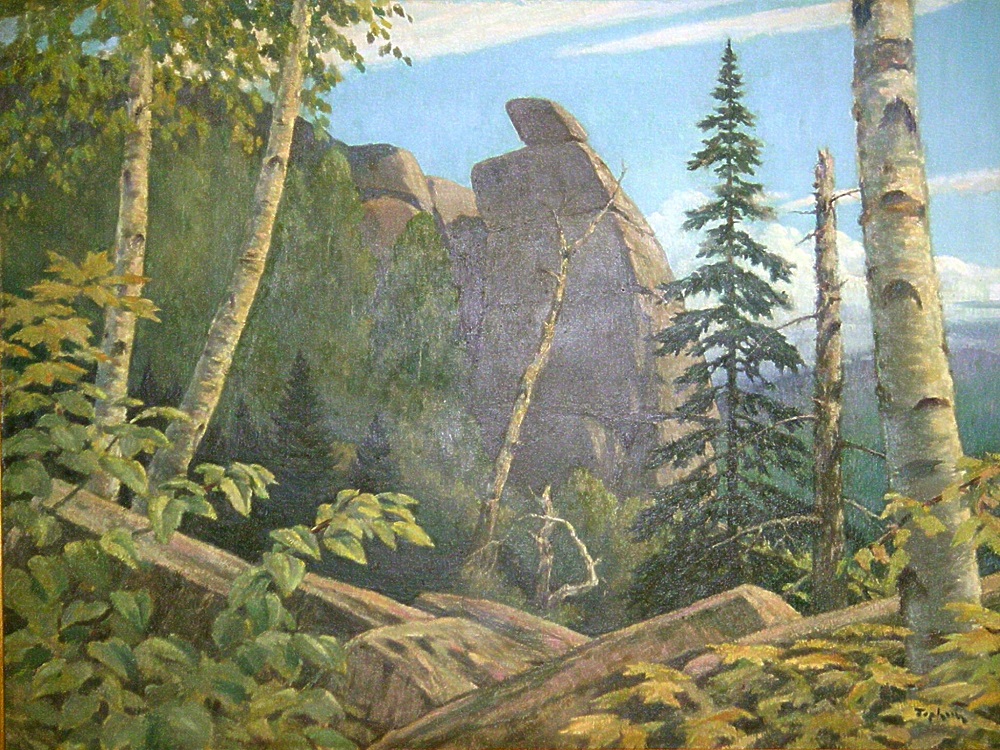 Source:
Photo, Claude Lavallée collection.
Christo Stefanoff was born in 1898 in Bulgaria and he died in 1966 in Val-David.
Born on an April 6 at Kazanlak, this child prodigy became interested very early in life in the natural beauty surrounding him. After elementary school, he attended high school where his drawing professor remarked his natural talent and encouraged him to study art.
In 1952, Cristo and his wife Irena settled in Canada. They chose a picturesque location in the Laurentians that quickly provided the artist with inspiration: Val-David. Right from the beginning of his time in Canada, Stefanoff was extremely active, holding many exhibitions of his work. He was selected to redo the ruined panorama known as "Jerusalem" at the Cathedral of Sainte-Anne-de-Beaupré. A well-known portrait artist, he painted many Québec personalities: Cardinal Paul-Émile Léger; Mayor of Montréal, Camillien Houde; celebrated businessman Samuel Bronfman; the last Polish Consul General to Montréal before the war, Tadeusz Brzeziński, and many others. In 1954, he held an exhibition in the large common room at Sacré-Cœur School in Val-David.
In addition to his art, Christo Stefanoff  brought a little known painting technique to Canada, using a spatula. All his works are painted using this technique, giving an additional three-dimensional aspect to his painting. He is recognized as a master who worked perfectly with light and colour.
In 1960, Christo Stefanoff opened a gallery in Val-David which still exists, but which has now been closed to the public for some years, unfortunately. In 1961, along with associates in the region, he created a vast project around a cultural centre and a foundation in his name, on his property at Val-David. The centre was to be made up of art galleries, chapels, a rotunda for exhibitions and readings, some 20 cottages equipped for art students and an amphitheatre for outdoor concerts. A model of the site was created some years later. The model was presented to the Municipality in 1965. The project required an investment of one million dollars.
But all this fine planning died with Christo,  in early December 1965.