Go back
The Laurentian Sanatorium, circa 1910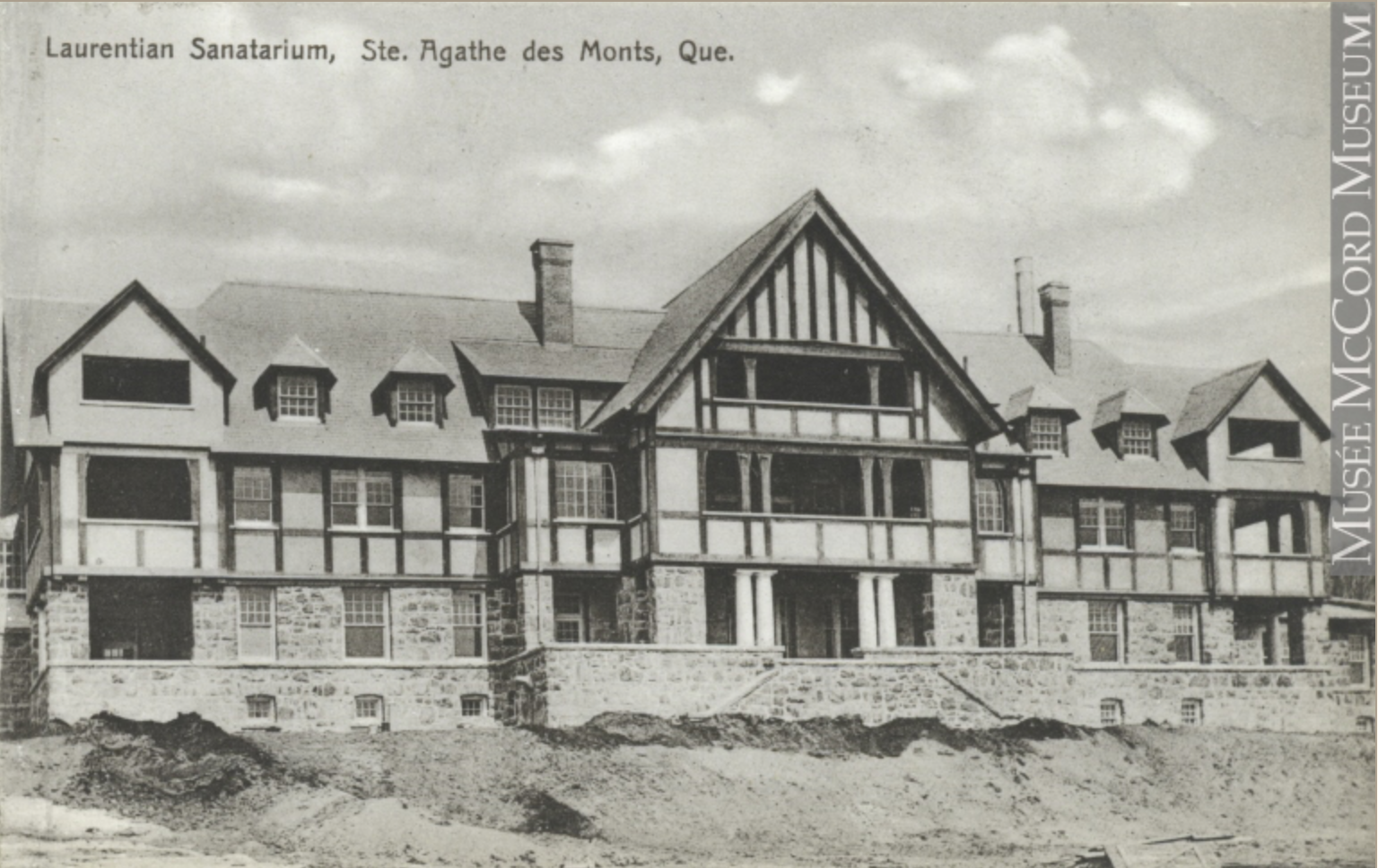 Source:
Laurentian Sanatorium, Sainte-Agathe-des-Monts, circa 1910; Photomechanical print; McCord Museum; MP-0000.968.16
The Laurentian sanatorium
At the end of the 19th century, tuberculosis was a major health problem and there was no remedy apart from rest and fresh air. Known for the quality of its air, Sainte-Agathe-des-Monts was identified as an ideal location for the treatment of the disease. A number of sanatoriums were built to house a population of sufferers from the Montréal region. Access was made easier thanks to the railway located only a few kilometres away from the village centre and Lac des Sables.
In 1908, a major project was undertaken. Douglas Lorne McGibbon, who had been diagnosed with tuberculosis, met Dr. Roddick Byers while he was hospitalized in Saranac Lake, New York. Observing that there was a lack of suitable treatment facilities in Canada, the two men partnered with other investors and founded the Laurentian Sanatorium in Sainte-Agathe. This Tudor-style building was remarkable for the quality of its unusual architecture. It remains unique among hospital buildings in Québec and is the last remaining example from the period of the sanatoriums in Sainte-Agathe.
The first pavilion was inaugurated in 1911 on forested grounds some way out of the village so that contagious patients could be kept isolated. It contained 45 beds and a separate storey for the personnel. From 1915 to 1924, the federal government requisitioned the site and turned it into a hospital for military personnel suffering from tuberculosis or other respiratory diseases, including those who had been exposed to mustard gas attacks during the war. The sanatorium was returned to the provincial government in 1924.