Go back
La Sapinière, first winter, 1936-1937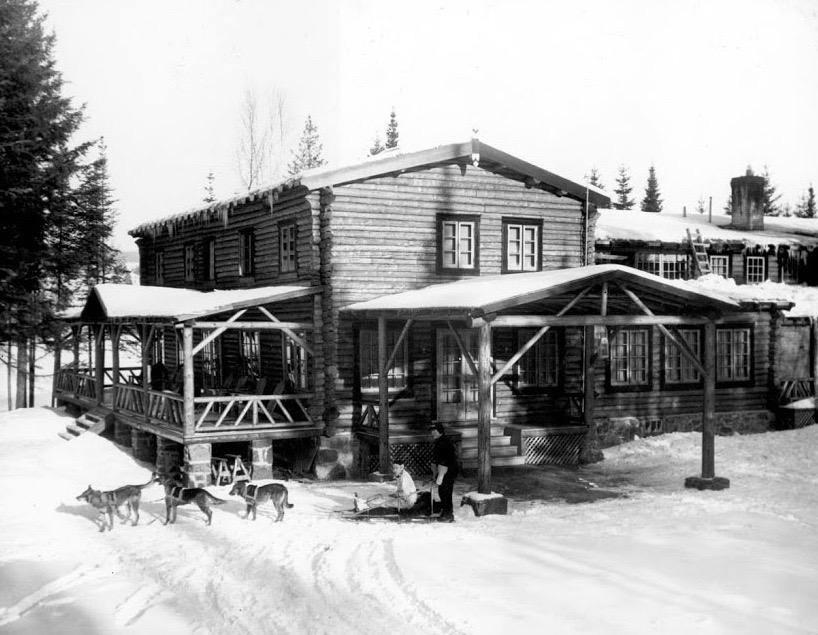 Source:
Laurentian Ski Museum, photo from the Clouthier family album.
Once built, La Sapinière rapidly became one of the leading hotels in the Laurentians and indeed, in all of Québec. From 1945, with assistance from the Québec government, the first courses in hotel management and cuisine in Québec were being held there. For more than 20 years, these courses were being taken by owners, employees and chefs of most of the inns and hotels in Québec. Thus was La Sapinière responsible for laying the base of all work done in inns, hotels and restaurants across Québec. This pedagogical vocation was pursued by older and still active employees of the hotel at the Polyvalente des Monts in Ste-Agathe from 1972, and later at the École Hôtelière des Laurentides in Sainte-Adèle after 1983.
Jean-Louis Dufresne and his wife Bobby (who always shared in the management of the establishment), had travelled extensively in Europe, discovering its gastronomy and vineyards. They then confided some of the major tasks in the hotel to Europeans of experience, as maîtres d'hôtel, chefs and sommeliers. Jean-Louis participated in a number of gastronomic clubs in Québec and created his own in the region. All the chefs at La Sapinière earned a renown that spread outside of both Québec and the Americas. This was particularly true of Roger Puvilland and Marcel Kretz, whose renown was international. La Sapinière's wine cellar was for many years the most important in Canada.
The fame of La Sapinière naturally attracted a prestigious clientele, several kings and queens, all the prime ministers of both Canada and the province, all ministers and MPs from all political persuasions. Montréal's Canadiens hockey team came following the 1951 finals. Artists and musicians came from all over the world, especially those who were performing locally at the Butte à Mathieu. It was the place for conferences, seminars and meetings (including the famous meeting of NATO members in 1982). And that's not forgetting about the thousands of Québécois who came on their honeymoon and all those who were conceived there!