Go back
First course held at Auberge Le Rouet in May 1969.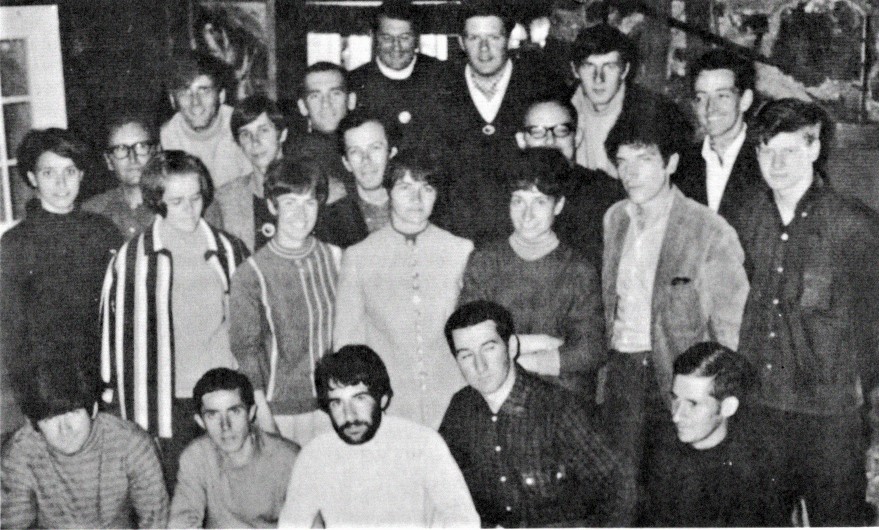 Source:
Claude Lavallée collection
Awarding FCMQ diplomas to participants – from left to right: 1st row: Yves Lafontaine (M), Claude Franc (*), Camille Choquette (M), André Hébert (M) and Roger Nadeau (I). 2nd row: Barbara Henderson, Liette Scott (I), Jacqueline Magdeleine (M), Louise Huot (M), Mado Lavergne (M), Louis Lambert (I) et Louis Roberge (I). 3rd row: Denis Gravel (E), Gilles Parent (E), Bernard Poisson (E), Serge Pageau (I) and Claude Lavallée, course director. 4th row: Robert Dupont (I), André Robert of Ski Nordique, Jean Sylvain (*), Gilles Dazé (M) and Daniel Mathieu (M)
Legend: Instructors (*), monitors (M), initiators (I) with the teachers (E)
Another fine summer season concludes at Auberge Le Rouet in Val-David where the Fédération des Clubs de Montagne du Québec (FCMQ) class of 1970 reap the rewards of their efforts.