Go back
Canadian postage stamps featuring birds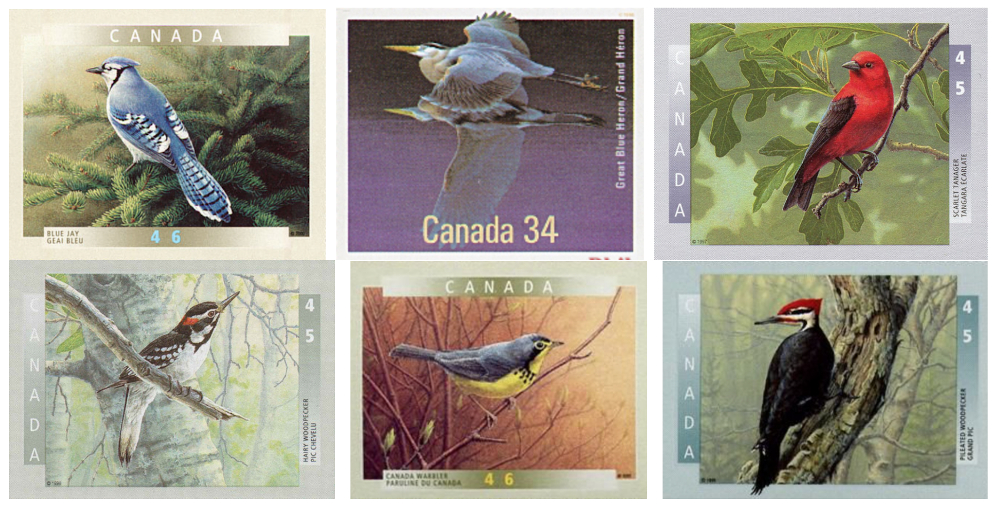 Source:
Various pages of the Canada Post site; https://www.canadapost.ca/
Canadian postage stamps illustrating some of the birdlife in our forests: blue jay (2000), great blue heron (1986), scarlet tanager (1997), hairy woodpecker (1998), Canada warbler (2000), pieleated woodpecker (1996).
Our natural habitat is home to many other bird species, mainly of forest dwellers: ducks, broad-winged hawk, merlin, common raven, ruffed grouse, American woodcock, winter wren, black-backed woodpecker, downy woodpecker, hermit thrush and veery, as well as a variety of warblers. All told, some 70 species of birds have been observed locally.
One particularity of our plant life worth mentioning is the endangered species, Canadian wild ginger.
Canadian wild ginger is found in maple groves, environments with rich soil or close to water. It has two leaves of 10 to 18 cm in diameter that are easy to recognize and come directly from an aromatic rhizome whose smell resembles ginger. The plant often forms a dense ground cover. It has one brownish-purple solitary flower hidden under the leaves. Canadian wild ginger is found from the Ottawa Valley right through to the Québec City region. Even though it is not expected to entirely disappear at the moment, several factors are contributing to its rarity including its inclusion on the menu of the white-tailed deer.