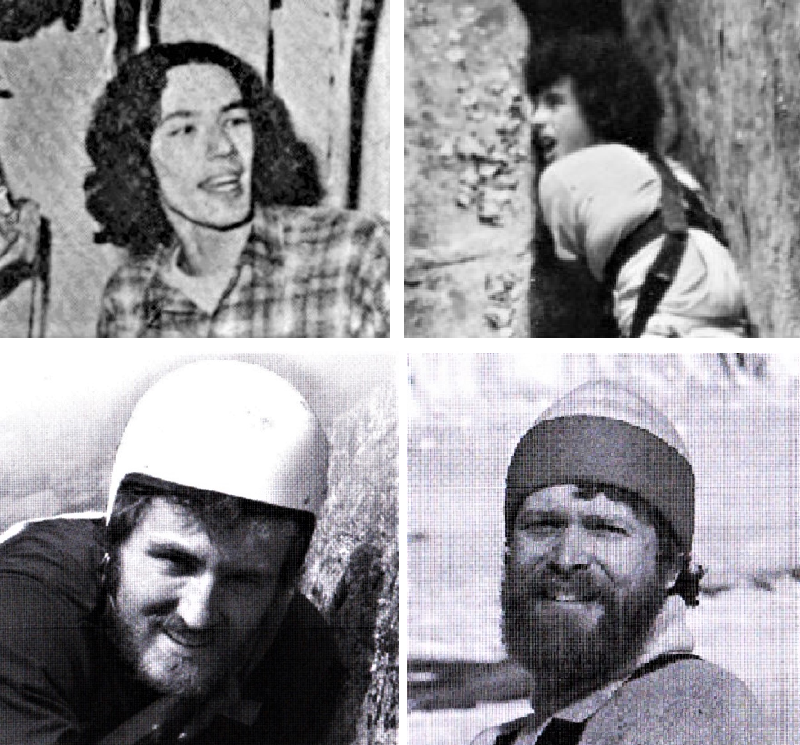 Source:
Claude Lavallée collection; montage by Martine Lavallée.
Above, some of the rebels of the 1970s. From left to right, starting at top: Hubert Morin, Normand Cadieux, Marc Blais and Paul Laperrière.
The first groups to win FCMQ diplomas produced some talented climbers like Jacques Lemay and Camille Choquette. Both of them managed to climb some of the more difficult local routes back in the 1970s.
During the same period, Hubert Morin and Normand Cadieux discovered a new cliff face in Val-David, which they called "Les Fesses." They opened a half dozen routes  there, which were very difficult at the time. During the remainder of the 70s, Normand Cadieux would be the leading climber in Québec.
But it was Paul Laperrière who ended up being the climber par excellence in Val-David. Beginning his first climbs in Val-David in 1968, he became an instructor in 1975. He opened forty or more new routes in the following decade and, together with his wife Dominique Forget, he opened a climbing school.
Another youthful climber of the 1970s was Marc Blais. A physical education teacher by profession, he followed the courses run by the FCMQ and rapidly displayed his talents as a rock climber. Marc introduced the technique of top-roping into teaching rock climbing in his physical education classes.