At the peak of popularity, in the mid to late 19th century, the population of Saint John was roughly 30,000 people and rowing regattas were seeing as many as 13,000 spectators. First place prize winnings fetched $2,000 which would be the equivalent of roughly $45,000 today! The sport of rowing in the port city was undoubtably a very popular pastime and "The Paris Crew" and its team members played a pivotal role in that story.
The triumphs of "The Paris Crew" are prominently highlighted by Brian Flood, author of 'Saint John: A sporting Tradition 1785-1985' as pivotal points in our sporting history. Brian was a competitive rower himself when he wrote this book and no doubt he used The Paris Crew's inspiring achievements when he and his brother Henry won the senior men's lightweight straight pairs at the 1983 Canadian National Amateur Rowing Championships.  Brian Flood was inducted into the New Brunswick Sports Hall of Fame in 2017.
"The Paris Crew" is joined by six other inductees in the New Brunswick Sports Hall of Fame for rowing. The province has been represented on the global stage numerous times by a chain of notable athletes, including:
Click here to view the video with complete transcript.
Legacy Commemorated – In celebration of the 150th Anniversary, the New Brunswick Sports Hall of Fame organized and delivered several initiatives; including: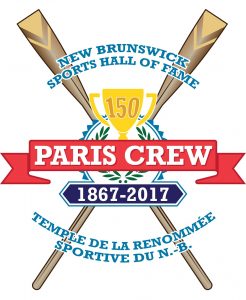 A rowing re-enactment on the Saint John River,
A celebration event at the New Brunswick Sports Hall of Fame with characters dressed in period clothing,
An on-site exhibition of Paris Crew artefacts and interpretative text and graphics,
A traveling exhibit that was shown at prominent events and festivals throughout the province,
A summer-long series of theatrical vignettes depicting various aspects of the Paris Crew story through song and performance.
Living Legacy – In the spring of 2017, in celebration of the Paris Crew's 150th Anniversary an elegant glass trophy was commissioned and is to be awarded annually at the New Brunswick High School Regatta.
The trophy is called the Paris Crew Trophy and fittingly in 2017 was awarded to the Rothesay Netherwood School, the team who trains and races on the Kennebecasis River, just outside Saint John, New Brunswick – the very river that those four underdogs from Saint John first got their start 150 years ago and would go on to become "Canada's First World Champions".