The railroad continued its importance to the city of Port Coquitlam during the war. It assisted in the movement of troops. But the railway link to the wider world also brought with it something more dangerous. In October of 1918, the railway brought the Siberian Expeditionary Force through Port Coquitlam on their way to Vladivostok. Also along for the ride were the first cases of Spanish Flu.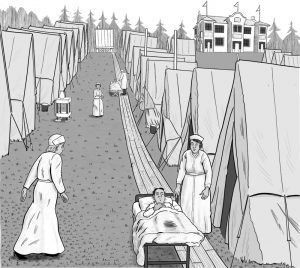 At first the flu appeared to be confined to the military with cases among the expeditionary force and returning soldiers. Military authorities commandeered the Agricultural Hall as an emergency hospital, soon running out of room. Tents were set up as temporary wards around Aggie Hall and the vacant Terminal Hotel was also commandeered to deal with flu cases.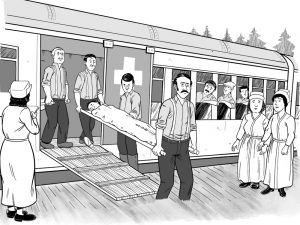 Those in authority were still concentrating on the war effort, and people gathering to raise funds for the war effort or to make supplies for the troops, helped to spread the flu among an unsuspecting public. News about the new medical threat wasn't widely reported until it was already an epidemic. Warring countries did not want to disclose their vulnerability and so kept quiet about all their soldiers that were ill and incapacitated. Dr. G.A. Sutherland, Port Coquitlam's Medical Officer, only cautioned the city at first, believing that the risk to civilians was minimal. With the first death, that of Private Johns on October 12, 1918, Dr. Sutherland issued a general quarantine, which led to closures of public gathering places and schools.