When Britain declared war on Germany on August 4, 1914, Canada was automatically included as it was part of the British Empire. Ottawa called for men to enlist in the army right away and, in the initial push, more volunteers answered the call than the minimum required. Many men and women from Port Coquitlam volunteered. The women served primarily as nurses while many of the men, not surprisingly, joined the Railway Construction Corps, a natural outcome for those from a place where railways were of such importance. Other men became part of the frontline troops, among them soon-to-be mayor, Arthur Mars, who served until he was wounded and no longer fit to fight.
Although a new city hall opened in October of 1914, with so many people absent and resources consigned to the war effort, Port Coquitlam's development was sidelined for much of World War I. Instead, much of the work done in the city focused on supplying the armed forces.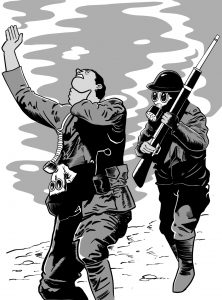 The concerted effort behind Canada's response to the war didn't just affect those who had reached the age to join up. Some young men took it further, lying about their age to enlist when they were barely old enough to shave. One such boy was Herbert Bradley of Port Coquitlam. Herbert, who was underage when he signed up in 1916, saw action at Vimy Ridge. His age was discovered when he inhaled poison gas and he was discharged and sent home. If he had lived a long life, this could have been an adventure to tell his children. Unfortunately, he succumbed to the Spanish flu that affected so many after the hostilities were over. He died at the age of 16.