Go back
MacNiders – Bringing a Seigneurie to Life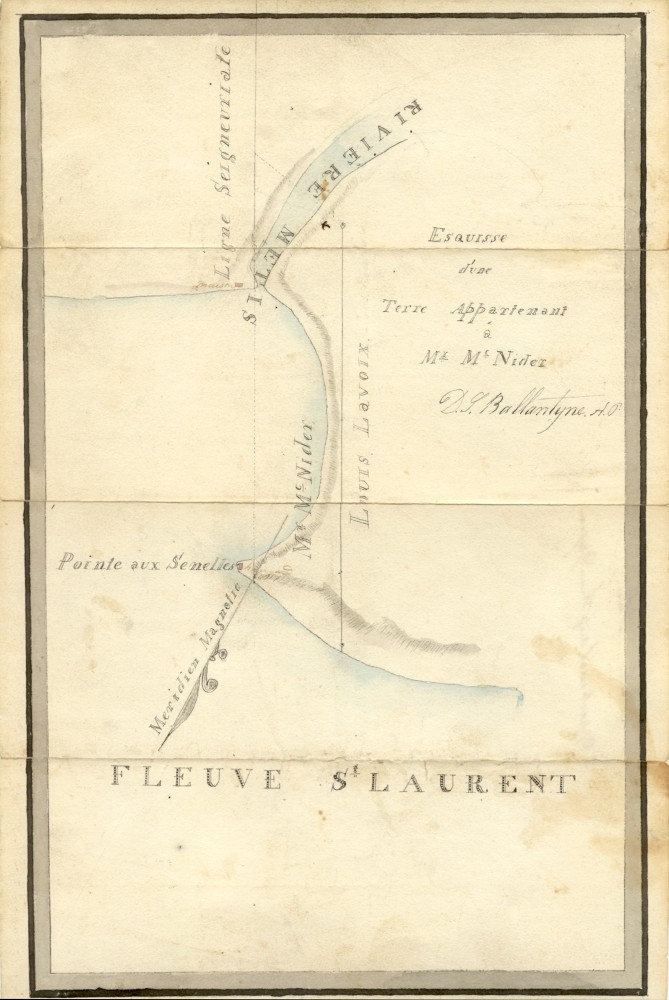 Esquisse d'une terre appartenant à Mr. McNider, 1829
D. S. Ballantyne
Map
Les Amis des Jardins de Métis Collection
Matthew MacNider purchased the Mitis seigneurie in 1802. He was a Scot with a timber business based in Quebec City and is credited with beginning the first efforts to settle this part of eastern Québec. In 1807, the seigneurie passed to his nephew John MacNider. He began to develop its resources and settled the seigneurie with colonists from his native village in Scotland. He developed the fishing at the mouth of the river and cut timber on the upper reaches of the river to be floated downriver to boats moored in the harbour.
After his death in 1829, his brother Adam Lymburner MacNider took possession and continued the development of the seigneurie until 1840. The seigneurie was then divided in two by the new owners, brothers David and Archibald Ferguson. They were the seigneurs when the seigneurial regime was abolished by the government of Lower Canada in 1854. George Stephen bought his property from David Ferguson in 1886.
This map, hand-drawn by surveyor D.S. Ballantyne from 1829, shows the limits of the property when it was owned by John MacNider.