Go back
George Stephen's Fishing Book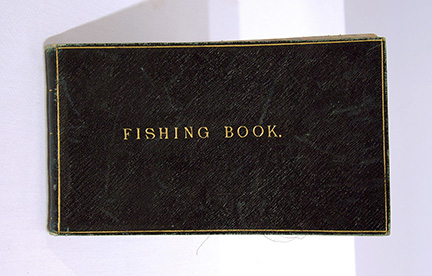 George Stephen's Fishing Book, 1890
Creswick & Co.
Les Amis des Jardins de Métis Collection
NAC: 2010.4
George Stephen is considered to be one of the pioneers and first promoters of salmon fishing in the Gaspésie region. This fishing book chronicles the salmon he and his guests caught between 1883 and 1890. Stephen bought land and fishing rights at Les Fourches, overlooking where the Causapscal and Matapedia rivers meet. He fished there until he purchased a second fishing camp in 1886 in Grand-Métis.
Fishing camps have often been used as venues where men (and sometimes their spouses) could both fish and do business. Stephen's fishing book shows that his guests included many of his business partners and directors of the CPR including Lord Elphinstone, Donald Smith and the railway's general manager and Stephen's successor as president, William Van Horne. He also entertained his lawyer John Sterling and his London bankers, Thomas Baring and Gaspard Farrer from Baring Brothers. His childhood friend Sir Donald Stewart, a Field Marshall and commander in chief of the British Army in India, was among the most regular visitors.
One of the unusual entries is "Miss Scott", whose name was also given to a pool in Metis, but whose identity is unknown. She is one of the few women who succeeded in fishing in a paradise mostly reserved for men.