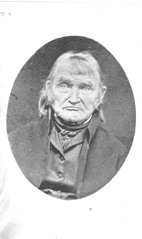 Image-Sharon Temple National Historic Site & Museum 
Ebenezer Doan was born in 1772. He immigrated to Upper Canada from Pennsylvania in 1808. He is the Master Builder and architect of the Sharon Temple and the Children of Peace meeting houses.
He left the Children of Peace in 1840. This is possibly due to their role in the Rebellion of 1837. He passed away in 1866 at age 93.