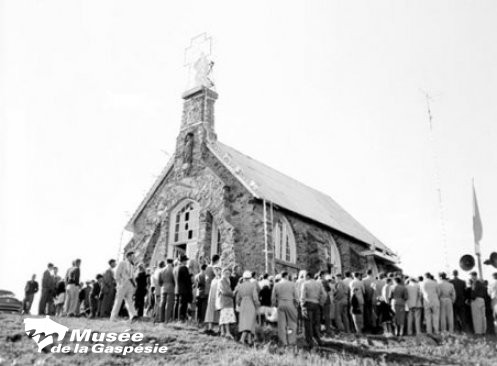 Photograph
Oratoire Notre-Dame-du-Mont-Saint-Joseph, August 17th  1958
Bernard, Charles-Eugène
Fonds Charles-Eugène Bernard
Musée de la Gaspésie
P67/B/1b/6/9
Tourism and the desire to travel began with the need of believers to make pilgrimages to shrines and places of worship. Several of the Quebec's most popular destinations for visitors remain the Oratoire Saint-Joseph in Montreal, the Basilica in Sainte-Anne-de-Beaupré and the pilgrimage site of Cap-de-la-Madeleine.
The main pilgrimage site in the Gaspé was built on Mont-Saint-Joseph above Carleton-sur-Mer. With its vast panorama over the Baie-des-Chaleurs, the site was frequented by natives for centuries. A statue of the Sacred Heart and then a cross were erected on the site in the 19th century. After a forest fire cleared most of the mountain of its trees and vegetation, a cross was erected in 1925 to honour Saint Joseph, the parish's patron saint. Roads were built to allow worshippers to make their way to the summit and the chapel built there.
A vast project to restore the 1935 chapel and buildings is underway to breathe life into Mont-Saint-Joseph to make the site accessible to a new generation of tourists and worshippers.