Go back
Creating a New Tourism Economy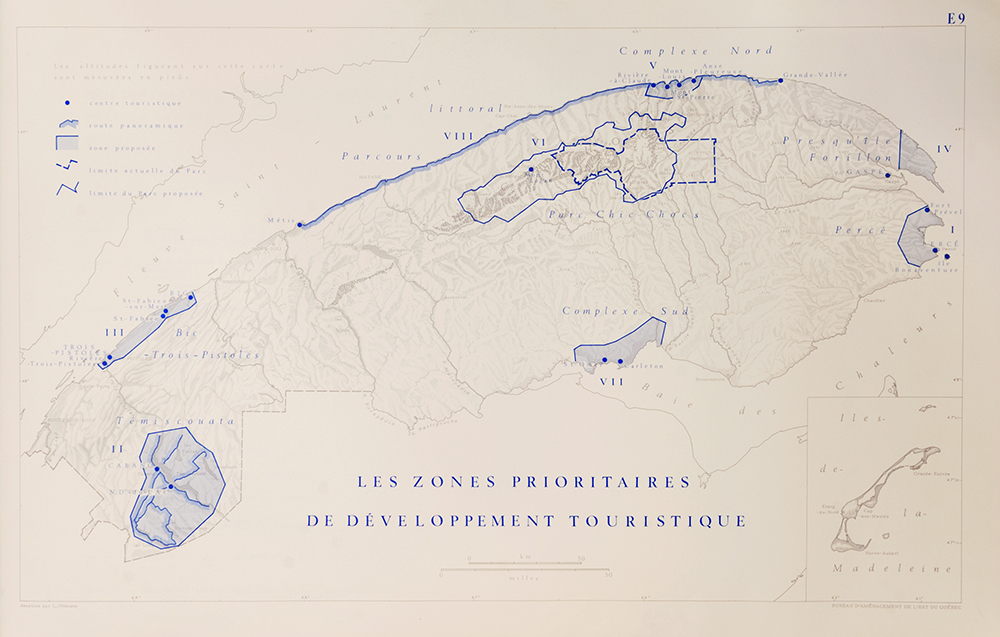 Map
Bureau d'aménagement de l'Est du Québec
Regional Atlas of Lower St. Lawrence, Gaspé and Îles-de-la-Madeleine, 1963
Plate E9, Priority Areas for Tourism Development, 1963
Les Amis des Jardins de Métis Collection
The Bureau d'aménagement de l'est du Québec (BAEQ) was created in 1963 to set new directions for eastern Quebec. Teams of bureaucrats and consultants brought their expertise to study the stagnating economy of the region and proposed change – some of it radical. A joint initiative of both the federal and provincial governments, the BAEQ was one of the first efforts to bring the new tools of social science to evaluate a region and solve its problems.
One of the sectors of the economy identified as having potential for growth and employment creation was tourism. The BAEQ advanced two major tourism developments that would later shape the region – the creation of parks in Bic and at the tip of the Gaspé Peninsula at Forillon. Developed by the Quebec and Canadian governments respectively, the projects were important public investments. But they required the expropriation of homes, farms and cottages. In the case of Forillon, hundreds of local residents were displaced.
Where land's end meets the ocean, Forillon has some of the most dramatic landscapes of any park in Canada. Opened in 1970, Forillon National Park quickly become one of the region's most popular attractions.