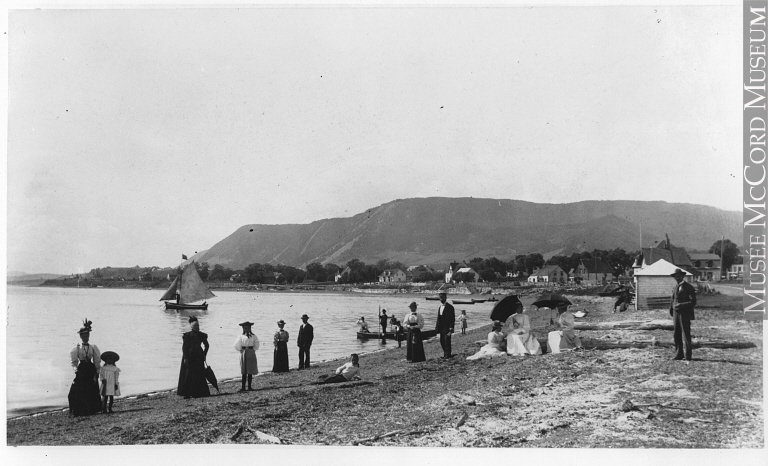 Photograph
Carleton, Baie des Chaleurs, Gaspésie, QC, about 1897
Anonymous
McCord Museum
MP-1981.56
One of the key reasons to travel east from Montreal in the 19th century was to "take the waters". Doctors prescribed sea bathing as a tonic and a cure for many ailments. Cold water was thought to soothe the soul and free the mind of evil thoughts. No wonder – the shock was sometimes nearly enough to stop the heart from functioning as well!
Seaside resorts in Brighton and Normandy became popular holiday destinations in the late Victorian era. Quebec did not escape this trend – even if beaches were scarce and the waters not always all that inviting.
The St. Lawrence has never been a bather's paradise. The temperature of the water reaches just 10º C in July and August. Bathing is for the courageous and swimming for the even more adventurous. The opening of public baths in Montreal in the 1880s and the courses offered by the Royal Life Saving Society taught generations of Quebeckers how to swim.
On some beaches of the Baie-des-Chaleurs, the "bay of heat", the shallows allow the water to warm up just enough during the summer to make bathing possible and even enjoyable.