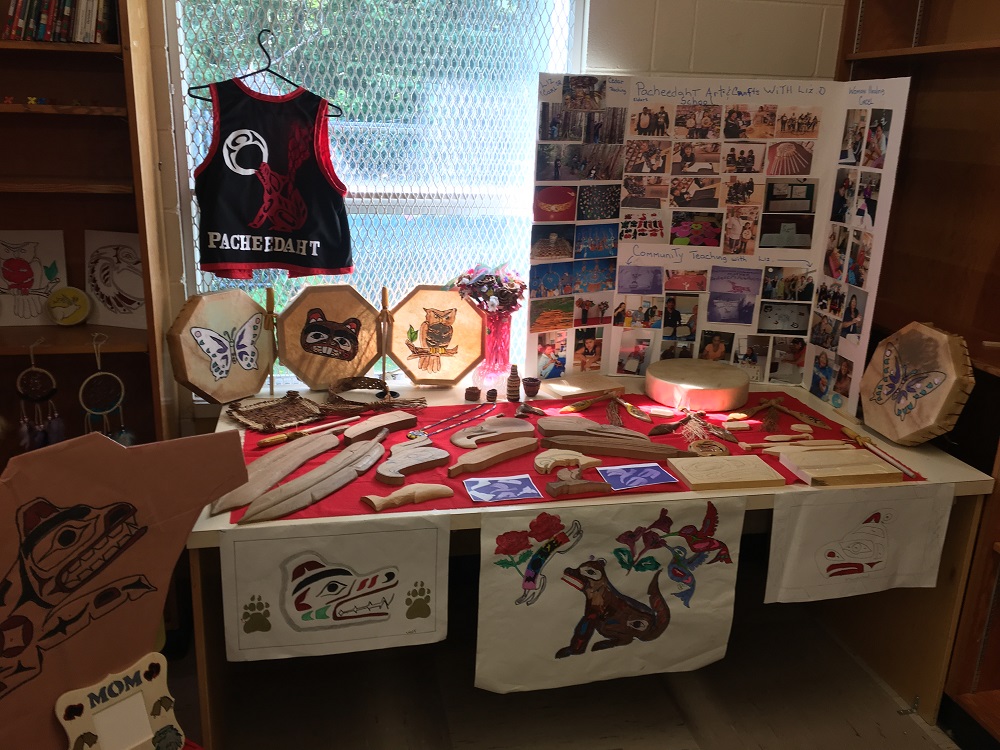 Liz Dick's display of all the art work and projects she does with the children, including vests, drums, drawings, carvings and paintings.
Photograph, 2019
Courtesy of the Sooke Region Historical Society
Audio, 2019
Courtesy of the Sooke Region Historical Society
2:36
This audio clip is an excerpt from an interview by Sooke Region Museum Collections Manager Montana Stanley on Rosslyn and Liz and their work and lives in Port Renfrew.
Liz: Well they look up to me as an elder, every Tuesday we have a community lunch and sometimes guests come in, so I do the prayer all the time for lunch, and if they need to do the ceremony, or someone needs to smudge and cleanse themselves, I'll be in the other room so people can come and go just regroup themselves and get rid of that negativity stuff so if anything is bothering them, like that, I do the traditional smudging, smudging and brushing them down, and where they feel better with themselves and they can carry on through the day without this negativity stuff that's going around.
Rosslyn: I find these ceremonies, well maybe I always was a bit teary at ceremonies, but these always make me cry. And even my job, like the role that I play, is to look after the children and to set up programs for the children and to be in charge of their education, and we've taken children from their 18th month, they used to be allowed, and I'd have them until they were 5, and they'd go, but these children next door, because I'm here for 10 years, they still come in. If they're a little bit under stress, or they're upset, they come in my room, because they know me. Or once remember? Liz was in here and a little girl was crying, an older child, and I brought her in to you. So we kind of play this role, as an aside, that she was just upset, and I said well let's just go see Liz then she stayed here with Liz. We are strong women, there's no question about that.
Liz: We all are always excited to see what next projects we're gonna work on. So yeah, it's exciting to be able to see their faces and how much it calms them down. They come here and they calm down completely and I get them to concentrate on their work. And if they have a bad day, then we just talk about it. And then we clear it, and we just say okay, let's put that aside for now, and if you need to talk about it again then we will talk about it. But in the meantime lets concentrate on your art work because we don't want to put any negativity in any of your art work whatsoever. Go in with a clean heart, and a strong mind, and think about what you're really doing with the art work here. And I just love it.