From the time it was established, volunteers have been the driving force behind the Corporation du Moulin Légaré (CML). Together, they have sustained it and kept it operating, thereby preserving the Moulin Légaré. Today, they continue to keep a close eye on it. Over the years, they have and carried out countless tasks and completed a number of large-scale projects.
It all starts at the meetings of the Board of Directors. Managing the finances, approving financial reports, hiring a miller and producing bags for the flour are just a few examples of the many tasks that must be carried out by those involved in the CML. Each member brings their own expertise, knowledge and sensitivities. From the beginning, board members came from many different walks of life. Meetings are attended by lawyers, teachers and urban planners, who work tirelessly to ensure that the Moulin Légaré receives the recognition it deserves.
Patrice Paquette, a volunteer and former vice-chair and chair of the Board of Directors, currently a Saint-Eustache city councillor, talks about the work he did when he first got involved with the CML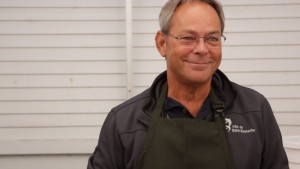 Audio clip with transcript: Patrice Paquette on the projects he worked on
In addition to managing the CML and setting its course for the future, volunteers and members keep the mill running from day to day. This requires availability, flexibility and a strong ability to respond to changing circumstances. It often means carrying out a variety of tasks. Problems can arise without warning. Since resources are limited, members are required to solve these problems themselves rather than hiring people to solve them.
Léon Tremblay talks about one of those times when the board members had to roll up their sleeves and come to the aid of the miller.
View this video with a transcript: Léon Tremblay on all-night bagging sessions
Many volunteers have taken on special projects that were particularly important to them. Huguette Désormeaux did the landscaping in front of the Moulin Légaré and maintained it for many years.
View this video with a transcript: Huguette Désormeaux on the garden
Corporation du Moulin Légaré